After careful consideration I have decided to transfer all hardware review activities to a new domain. I purchased Hardwareasylum.com in 2012 and have been working hard to build a new and improved Ninjalane on that domain. If you are reading this you have reached one of the archived articles, news, projects and/or reviews that were left behind during the site migration.
Please update your bookmarks and be sure to visit the new and improved Ninjalane at Hardwareasylum.com
Lexan Window and Fan Install
Author:

Dennis Garcia
Published:
Tuesday, November 07, 2000

Introduction
I'm preparing to build a new computer to replace some of the aging machines I have. With the new computer I will need to change the roles of my other machines that are not going away. The dual P3 450 seen in a previous project
here
is going to become a Slackware 7.1 Server with my new machine being a Dual P3 800. The specs of the new machine are pretty similar to the previous one. 30 gigs of RAID 0 goodness on a ATA 100 bus, GeForce2 Ultra. etc. Though instead of getting a new case I decided to finish moddin' my previous project case and add a few things in the process.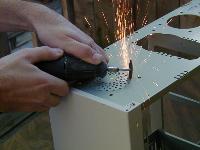 first I wanted to remove the fan guard from the top fan port that wasn't removed in the previous project. Before I had no need to have a fan there, now I think I will.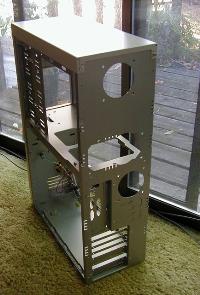 Here is the finished product, only took about 10 min to get the stock cover out of there and smooth off the edges. An Evercool 80mm fan will reside in this location. As a general note it is very important to remove all electrical parts from the case before doing any cutting where metal is being ground away. The dust can create "shorts" that could destroy expensive hardware in a hurry.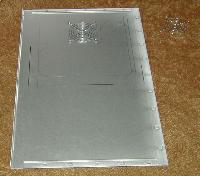 Next with the side panel already removed I laid out my windows and intake ports. The tiny 80mm fan located at the front of the case
here
could not keep up with the airflow demands so I decided another intake system was needed. One interesting thing that some of you might not have known is that the metal fan grills work great for circle templates, the outermost ring is the same size as the fan opening. Though in the case of the 92mm Sumon I plan to put in here a 3.5" hole saw works too.