projects
Recycled Case Mod Project
Author: Dennis Garcia

Published: Monday, January 07, 2002

Discuss in the Forums
Painting Part 2 - Frame and panels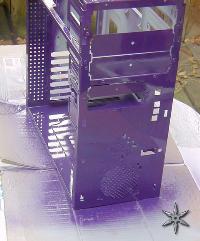 Next we painted the case frame, it didn't turn out that bad. Quite glossy overall and the girl even painted parts you will never normally see. It is kind of silly if you ask me but attention to detail is what makes your casemods stand out.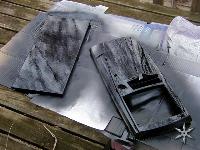 The front panel and top where painted next. You can see how the satin paint goes on quite glossy at first but dries to a nice even and quite smooth finish.
The next part of the mod is in relation to the playtime case so I'm going to borrow the photos from there. These photos show exactly what happened to this case, the only exception being that the colors changed.