After careful consideration I have decided to transfer all hardware review activities to a new domain. I purchased Hardwareasylum.com in 2012 and have been working hard to build a new and improved Ninjalane on that domain. If you are reading this you have reached one of the archived articles, news, projects and/or reviews that were left behind during the site migration.
Please update your bookmarks and be sure to visit the new and improved Ninjalane at Hardwareasylum.com
Recycled Case Mod Project
Author:

Dennis Garcia
Published:
Monday, January 07, 2002

Assembly and testing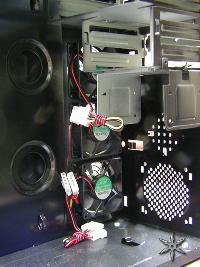 After the paint has dried we can assemble. Here you can see where most of the air movement will be targeted. No need for HDD coolers in this case. This photo is also from the playtime mod, I guess just imagine purple instead of black.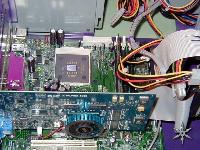 There was no need for any high performance equipment in this case. The board is a Tyan Trinity KT-A with a 1GHz Athlon processor and 256 Megs of SDRAM. The rest of the system consists of a Kyro II video card, Hercules Muse XL sound card, 5400rpm 40gig Maxtor hdd and 16x DVD.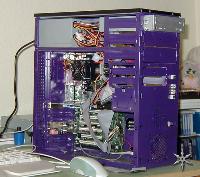 After everything has been installed it is time to test and tune. In this photo you can see the ThermoEngine and 60mm YS Tech heastink fan combo. You will also notice the mess of ribbon cables, these became rounded peices once the testing was complete.
Refer to this page for an ATA100 rounding how-to