After careful consideration I have decided to transfer all hardware review activities to a new domain. I purchased Hardwareasylum.com in 2012 and have been working hard to build a new and improved Ninjalane on that domain. If you are reading this you have reached one of the archived articles, news, projects and/or reviews that were left behind during the site migration.
Please update your bookmarks and be sure to visit the new and improved Ninjalane at Hardwareasylum.com
HDD Cooler Installation
Author:

Dennis Garcia
Published:
Saturday, July 08, 2000

HDD Cooler Installation Part 2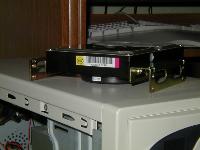 After the cooler has been attached I needed to flip over the mounting spacers. I always install my hard drives into 5.25 bays I have found that they make less noise and run much cooler. This extra airspace will do wonders when trying to cool devices. Now this cooler will fit on the drives that are installed into a regular 3.5 bay (I believe primarily what these coolers were designed for). Though the efficiency will decrease due to the lack of "fresh" airflow.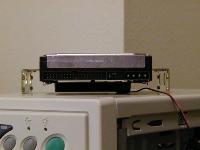 This image shows how the spacers now lift the drive up giving the cooler room to work. You can also see that the cooler doesn't really make contact with the drive except on the mounting points. This gives the cooler more space to move the heated air around.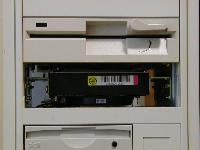 Here is the finished product without the coverplate. After I hooked the drive and cooler up I started Norton Speed Disk up and proceeded to defrag the drive. After it was finished I could tell a noticeable difference in drive temperature. Granted I used the good ole finger technique for testing purposes but I think we all do.
Like I said before this project is very simple and only took me 15min to accomplish. Some would say if your case is vented properly there is no need for a HDD cooler, and I fully agree with that. Though personally I feel that if an electrical component produces heat and could be otherwise damaged by it we should do our best to prevent it from happening.
Also check out
Part 2
of the HDD installation project. It would seem that less than two weeks after I installed the cooler the fan seized up. (quality work I must say) So I replaced the unit with an Ultra Thin Hard Disk Cooler 2 from
CoolerGuys.com