reviews
Cooler Master HAF 922 Case Review
Author: William West

Published: Tuesday, May 12, 2009

Discuss in the Forums
Introduction
It has been almost a year since the first HAF 932 was released and really became the staple for what was to come. The HAF 932 was an engineering mix match of different ideas rolled into a single case design. The HAF 932 also started the new design ideas that trickled down to the small Mid-Tower designs in the Cooler Master lineup.

In this review we will be looking at the Cooler Master HAF 922 Mid-Tower case. As the name suggests we are looking at a smaller version of the original HAF 932 with the same look and bold styling. The new HAF 922 features many of the internals found in the popular CM Storm Sniper with some allowances for the water cooling features found in the HAF 932.

Quite the case, lets take a closer look.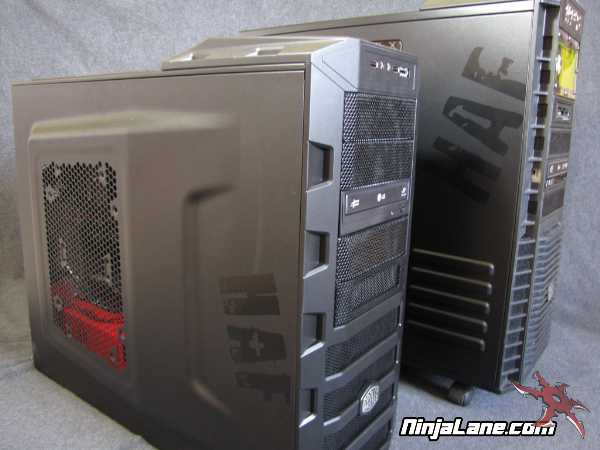 The Cooler Master HAF 922 is a steel bodied case that is painted with a special flat black paint and later accented with black to give the case a very smooth finish. By comparison the look is much more refined than the HAF 932 version.
Front expansion slots feature an all metal mesh and filters to provide ample cooling and dust filtration. Both side panels bulge out to give the HAF922 more internal space for large fans and better cable management.
Specifications
Motherboard: Micro-ATX/ATX
Drive Bays: 5 x 5.25" External
Drive Bays: 5 x 3.25" Internal
Cooling: Front: 1 x 200 x 30mm Red LED Fan, Top: 1 x 200 x 30mm Standard Fan, Rear: 1 x 120 x 25mm Standard Fan, Optional Bottom: 120/140mm Fan, Side: 200mm Fan
Front I/O Ports: 2 x USB 2.0, 1 x eSATA, 1 x MIC, 1 x Audio
Net Weight: 24 pounds
Dimensions: (L)22.8 x (W)11.2 x (H)21.7 inches
Expansion Slots: 8