After careful consideration I have decided to transfer all hardware review activities to a new domain. I purchased Hardwareasylum.com in 2012 and have been working hard to build a new and improved Ninjalane on that domain. If you are reading this you have reached one of the archived articles, news, projects and/or reviews that were left behind during the site migration.
Please update your bookmarks and be sure to visit the new and improved Ninjalane at Hardwareasylum.com
Coolink Corator DS Heatsink Review
Author:

Dennis Garcia
Published:
Friday, July 23, 2010

Introduction
In the world of heatpipe enabled heatsinks there are 2 schools of thought when it comes to the interface between the heat source and the radiator. Some designers opt for the traditional approach and leave a fairly large chunk of metal near the base. This adds mass to the heatsink and gives you a nice smooth base to work from. The second school favors the "core contact" designs where the heatpipe is positioned directly over the heat source. The idea here is that you get better thermal transfer and use less material. There are several downsides to this approach, the biggest being noticeable gaps in the mounting surface where the heatpipe and heatsink meet. Not only does this look tacky, but it removes valuable surface area.

A new method being pioneered by Coolink is a core contact mounting method that removes these gaps and provides a completely smooth surface between the CPU and the heatsink. Coolink calls this technology Gapless Direct Touch (GBT) and does a great job at combining the two previous methods together.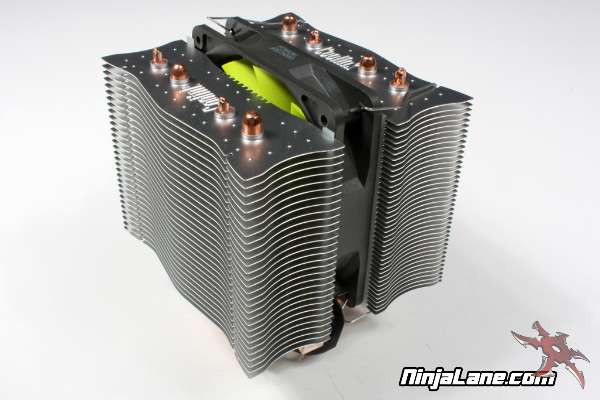 In this review we will be looking at the new Coolink Corator DS heatsink. This is a dual tower heatpipe cooler with a center mounted cooling fan and 4 extremely large 8mm heatpipes. The center fan is a 120mm unit from Coolink that features hydro-dynamic bearings and spins between 800 and 1700rpm.
The base of this heatsink is very unique. The center is made from copper and fully surrounds the 4x 8mm heatpipes. This copper core is then wrapped in aluminum with the mounting hardware attached. One of the primary features of this heatsink is the Gapless Direct Touch surface designed to provide instant heat transfer across the entire surface.