After careful consideration I have decided to transfer all hardware review activities to a new domain. I purchased Hardwareasylum.com in 2012 and have been working hard to build a new and improved Ninjalane on that domain. If you are reading this you have reached one of the archived articles, news, projects and/or reviews that were left behind during the site migration.
Please update your bookmarks and be sure to visit the new and improved Ninjalane at Hardwareasylum.com
Freeway Design FWD-P3C4XD Motherboard Review
Freeway Design FWD-P3C4XD Motherboard Review
Author:

Dennis Garcia
Published:
Sunday, November 26, 2000

Introduction
Introduction
I have a very special review to post here at Ninjalane.com. I was lucky enough to get my hands on a Freeway Design FWD-P3C4XD. This product was sent to me by
Freeway
from their offices in Taiwan. Freeway, designs and builds a variety of products for the home and office, motherboards just happen to be one of those products.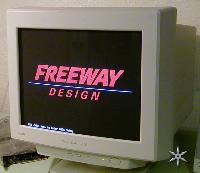 Here is the breakdown of the review.
Introduction
Board Features/specs
Installation
Benchmarks
Conclusion
I'm not going to go into extreme depth with this review, Though I will do my best to provide some insite about this fine product from Freeway.
Board Features/specs

The bios is by American MegaTrends and gives excellent control over the motherboard's features, more on that later.

There are 6 fan headers on this board, 2 for the processors, and 4 others for case fans. Each one of these fan headers can be monitored via the bios or a program like Motherboard Monitor. Along with the fan headers there is also 4 temperature sensors. Each processor has one, there is sensor for ambient case temperature and a provisions for another 10k Ohm thermistor (to be added later) that can be placed to monitor just about anything. The manual suggests placing the sensor on a hard drive, but can also be easily added to monitor the video card.

More specs on page 2