After careful consideration I have decided to transfer all hardware review activities to a new domain. I purchased Hardwareasylum.com in 2012 and have been working hard to build a new and improved Ninjalane on that domain. If you are reading this you have reached one of the archived articles, news, projects and/or reviews that were left behind during the site migration.
Please update your bookmarks and be sure to visit the new and improved Ninjalane at Hardwareasylum.com
Gigabyte GA-890FXA-UD5 Motherboard Review
Gigabyte GA-890FXA-UD5 Motherboard Review
Author:

Dennis Garcia
Published:
Tuesday, August 24, 2010

Board Layout and Features
The Gigabyte GA-890FXA-UD5 supports the AM3 processor format including the Phenom II and Athlon II processors. The socket is not keyed like the ones you find on an Intel motherboard, instead you need to make sure and line up the number 1 pin with the number 1 location on the socket. (a tiny arrow will help you do this). In previous Athlon 64 installations you could rely on the actual pins to help you line up the processor but the AM3 941 pin socket doesn't always match 938 processor pin configuration.
Gigabyte has included 2x banks of dual channel DDR3 that together support up to 16GB of memory. Keep in mind that AMD systems still us the higher voltage DDR3 modules so be sure to purchase the proper kit when ordering memory.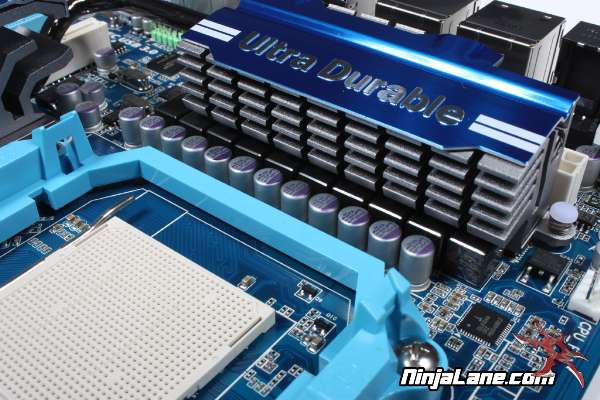 Power is a very important part of any system, especially when tasked with stabilizing an overclock. The GA-890FXA-UD5 features a 10 phase analog power supply with 8 phases dedicated to the CPU and the remaining 2 supplying power to chipset and memory.

Near the CPU and Memory sockets you'll find a variety of key, yet seldom used components. Both onboard power and reset buttons are located near the primary 24 pin power connector and above the IDE and Floppy connections. Many of these connections are considered legacy, and while it would be nice to have better access to the power and reset switches the truth of the matter is, after the system is installed you're not going to need them anyway.
SATA3 and SATA6 are both supported on the GA-890FXA-UD5 with a total of 8 connections being available. The connections are placed at right angles for better access and video card compatibility. All of the white drive connections seen in these photos are made possible by the Gigabyte SATA2 chip (pictured).

Unlike the power and reset buttons the CMOS clear switch is located in the open area above where the first video card will be installed.