After careful consideration I have decided to transfer all hardware review activities to a new domain. I purchased Hardwareasylum.com in 2012 and have been working hard to build a new and improved Ninjalane on that domain. If you are reading this you have reached one of the archived articles, news, projects and/or reviews that were left behind during the site migration.
Please update your bookmarks and be sure to visit the new and improved Ninjalane at Hardwareasylum.com
Gigabyte GA-890FXA-UD5 Motherboard Review
Gigabyte GA-890FXA-UD5 Motherboard Review
Author:

Dennis Garcia
Published:
Tuesday, August 24, 2010

Conclusion
It has been quite some time since we last reviewed an AMD enabled motherboard and much to our surprise not much has changed. Granted the processors have gotten more powerful and they overclock better however none of that can be realized if your motherboard cannot unlock all of that potential.

The Gigabyte GA-890FXA-UD5 has a standard layout for a modern motherboard supporting 2 banks of dual channel DDR3 and multi GPU configurations up to 3 cards. Unfortunately multi GPU is only supported using ATI cards so supporters of SLI will be out of luck on this platform.

A few new features unique to the AMD 890FX chipset include 42 PCIe lanes with 32 of them being dedicated to graphics alone. These lanes can be divided up into dual and quad card configurations depending on what the manufacture decides. In the case of the GA-890FXA-UD5 the two topmost slots run at full 16x lane bandwidth while the remaining 2 have 4x and 8x lanes respectively. Another feature is support for the new SATA drive standard called SATA6. While only a handful of drives exist with a SATA6 controller the support alone is enough to get any enthusiast excited.

Overclocking on the 890FXA-UD5 was rather straight forward and once we remembered what was needed to make a Phenom clock we were off and running. Of course a black edition processor helps in the tweaking process but for those of you running retail CPUs it is important that a motherboard support high HyperTransport speeds. For our overclocking tests we hit 300HT with relative ease and were only limited by our cooling method.

Speaking of cooling, after the primary benchmarks were completed we decided to see how the GA-890FXA-UD5 reacted to some semi-extreme cold. So we hooked up our 300w phase cooler and started clocking an old Phenom II X3 720. The board ran flawless and even helped us land a few more points for the Ninjalane HWBot Team.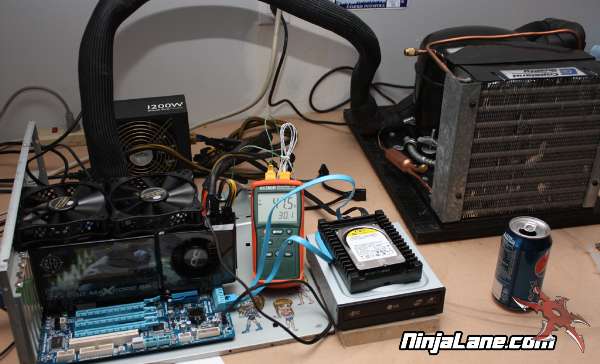 Now for the ever popular list of Good things and Bad things.

Good Things
Great motherboard styling
6 Core AMD Support
Core Unlock Feature
USB Charge Option
Full Bandwidth 3-Way Crossfire
Decent Motherboard Cooling
Backlit Onboard Buttons (pwr/rst/cmos)

Bad Things
8 Pin power difficult to access
No debug LED

Ninjalane Rating
We would like to thank
Gigabyte
for helping to make this review possible.