After careful consideration I have decided to transfer all hardware review activities to a new domain. I purchased Hardwareasylum.com in 2012 and have been working hard to build a new and improved Ninjalane on that domain. If you are reading this you have reached one of the archived articles, news, projects and/or reviews that were left behind during the site migration.
Please update your bookmarks and be sure to visit the new and improved Ninjalane at Hardwareasylum.com
DFI LanParty P35 Motherboard Review
DFI LanParty P35 Motherboard Review
Author:

Dennis Garcia
Published:
Monday, October 01, 2007

Introduction
In this review we will be looking at a new motherboard from DFI called the LP UT P35. This is a "3" series enabled motherboard based on the P35 chipset codenamed "Bearlake". The UT P35 comes in two basic flavors based on what memory you wish to support. The LP UT P35 T2R (featured here) supports DDR2 while the LP UT P35 T3R supports the new DDR3 standard. The boards are virtually identical so be sure to get the right version to support your memory option.

Two things you will notice right away with the LP UT P35 is the seemingly oversized heatpipe cooler that covers the North and South bridge chips along with the PWM onboard power supply. The color is a simple grey which we find to be very pleasing unlike some of the other guys that are using natural copper.

The next item is the color scheme, no more orange! When I asked DFI about this radical departure their response was simple.

"That's true that green and yellow is replaced the familiar orange. In fact, we use orange color for too long…No matter, what color it is, we hope we can bring users a "fresh" feeling of our product whenever we launch new model. "

We actually liked the orange color here at Ninjalane but they are right, it was time to change things up and bring something new to the table. The PCB is still black and features soft rounded corners.

The 3 series chipset family consists of basic 4 core logic systems. The P35 and G33 are separated by an integrated graphics core while the X38 and G35 are slightly enhanced versions of the P35.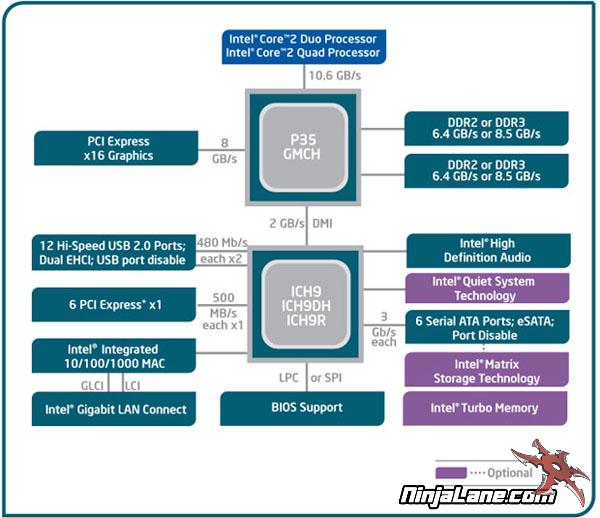 Motherboard core logic (or chipset) is really what defines many of the features you find on today's motherboards.  Mobo makers are given a choice in what features they wish to expose but oftentimes enable everything out of the box.  The company can then add their own IP to help personalize the final product line.  DFI instance has a long track record of favoring the enthusiast and tailors their boards for overclocking and system tweaking but has recently started to offer more configurable options like the removable sound modules that we will see later in this review.