After careful consideration I have decided to transfer all hardware review activities to a new domain. I purchased Hardwareasylum.com in 2012 and have been working hard to build a new and improved Ninjalane on that domain. If you are reading this you have reached one of the archived articles, news, projects and/or reviews that were left behind during the site migration.
Please update your bookmarks and be sure to visit the new and improved Ninjalane at Hardwareasylum.com
DFI LanParty P35 Motherboard Review
DFI LanParty P35 Motherboard Review
Author:

Dennis Garcia
Published:
Monday, October 01, 2007

Benchmarks - Real World
Quake 4
Quake4 is the latest installment in a long line of "Quake" games from id Software. While the storyline is more in line with Quake2 the game engine is taken from Doom3. Together they make for a very exciting game with some pretty amazing graphics. For this benchmark we're using the v1.2 patch and included nettimedemo id_demo001. To run this demo pull down the console and type "playnettimedemo id_demo001", when complete pulldown the console again to see your score.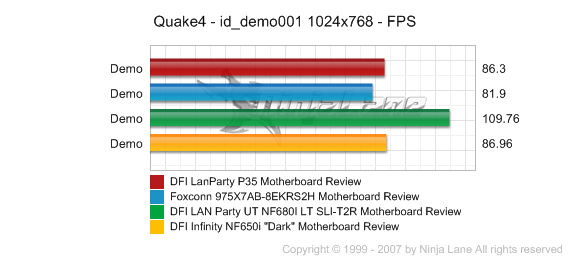 Far Cry
Far Cry. This game is very similar to Serious Sam in that the maps are huge and have a ton of things to shoot. Granted the graphics are quite a bit better and the water textures are something to die for. For this benchmark we used the regulator demo and the following command line. "FarCry.exe -DEVMODE "#demo_num_runs=1" "#demo_quit=1" "#r_Width=800" "#r_Height=600" "map regulator" "demo regulator""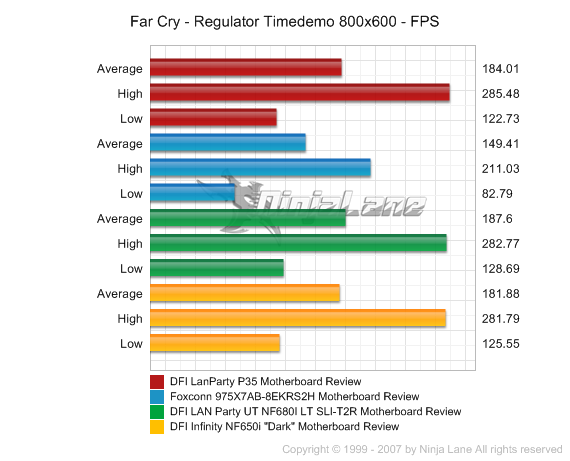 Serious Sam II
Extreme action and never ending hordes of enemies is what the Serious Sam series is all about. Serious Sam II looks nothing like the original; the game engine was complete redesigned from the ground up to bring better graphics and more complex physics but we still like it for the wacky storyline and non-stop action.  We used a free benchmark available over at Guru3D called the "Serious Sam II Benchmark" for these tests.

Xvid Encoding
XviD Movie Encoding Test: This is a new test that was added to cover other sections of real-world performance. The test consists of a simple task of encoding a DVD rip from VOB to AVI with AutoGK 2.27 using the XviD codec. The movie used is the first chapter of Dirty Pair Flash #2 and consisted of 40104 frames. The time shown is how many frames per second were processed during the first pass to encode the video files.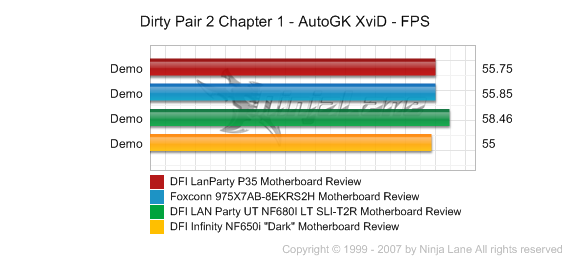 Content Creation Winstone 2004
The best of the best when it comes to real world benchmarks, this free program is available from eTesting Labs and uses real programs to test the overall performance of your computer. These programs include: Adobe Photoshop 7.0.1, Adobe Premiere 6.50, Macromedia Director MX 9.0, Macromedia Dreamweaver MX 6.1, Microsoft Windows Media Encoder 9 Version 9.00.00.2980, NewTek's LightWave 3D 7.5b, and Steinberg WaveLab 4.0f.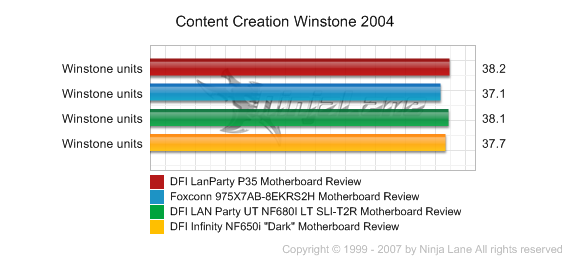 Business Winstone 2004
Business Winstone is quite similar to the Content Creation benchmark but uses programs that you would most likely use in the office. These programs include Microsoft Access 2002 SP-2, Microsoft Excel 2002 SP-2, Microsoft FrontPage 2002 SP-2, Microsoft Outlook 2002 SP-2, Microsoft PowerPoint 2002 SP-2, Microsoft Project 2002, Microsoft Word 2002 SP-2, WinZip 8.1 SR-1, and Norton AntiVirus Professional Edition 2003.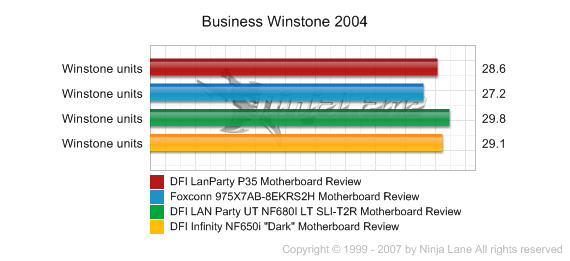 Real World Conclusion
Our real world benchmarks are designed to illustrate a cross section in performance that covers gaming, video encoding, content creation and everyday office applications. As was shown in the synthetic performance the UT P35 was lagging behind in memory performance but regained the crown when it came to real world work.  Goes to show how "inaccurate" synthetic benchmarks can be, or does it?