After careful consideration I have decided to transfer all hardware review activities to a new domain. I purchased Hardwareasylum.com in 2012 and have been working hard to build a new and improved Ninjalane on that domain. If you are reading this you have reached one of the archived articles, news, projects and/or reviews that were left behind during the site migration.
Please update your bookmarks and be sure to visit the new and improved Ninjalane at Hardwareasylum.com
SilverStone ST60EF 600 Watt Power Supply Review
SilverStone ST60EF 600 Watt Power Supply Review
Author:

William West
Published:
Monday, October 06, 2008

Features Cont.
In looking at the cables found on the SilverStone ST60EF PSU we can see they are all sleeved. This has finally become the norm for higher end Power Supplies however something looks different. They bring the sleeving down to the first connector and then seemed to forget to continue on. This is more of a visual thing but still it looks horrible.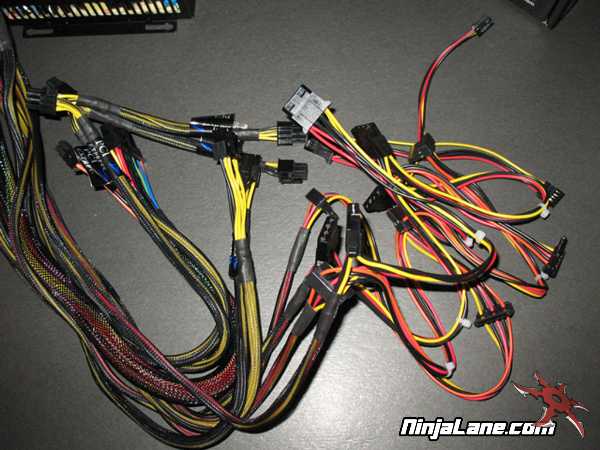 Cable length has always been an issue with power supplies, companies usually have a recommended standard they follow to meet the needs of most consumers. The SilverStone ST60EF PSU appears to be made for larger case environments given that the cables are pretty long. The Molex, SATA and floppy cables come in at around 44 inches long while the 24 Pin ATX cable is just at 22inches, PCI-Express Video Card Connectors are around 26 inches long. These will work just fine in a case that has the PSU mounted at the bottom however if you have a smaller case you better be ready to do some serious wire management.

Still it is better to have too much than not enough.

Cable Run Down

1 x 24/20 - Pin Motherboard connector
1 x 8/4 - Pin EPS / ATX 12V connector
4 x 6 - Pin PCI-E connector
1 x 8 - Pin PCI-E connector
6 x SATA connector
6 x 4 - Pin Peripheral connector
2 x 4 - Pin Floppy connector
Included Goodies
SilverStone did not skimp on the goodies at all on this PSU. They give you 4 x silver thumbscrews and 4 x black regular screws. They also give you 4 x small zip ties and 4 x big Velcro wraps.
Also in the package are a power cord and two manuals hitting most of the major languages in the world. The manuals are very informative about installation and specifications.

The SilverStone ST60EF PSU is made to make a great impression inside and out for anyone.