After careful consideration I have decided to transfer all hardware review activities to a new domain. I purchased Hardwareasylum.com in 2012 and have been working hard to build a new and improved Ninjalane on that domain. If you are reading this you have reached one of the archived articles, news, projects and/or reviews that were left behind during the site migration.
Please update your bookmarks and be sure to visit the new and improved Ninjalane at Hardwareasylum.com
Hercules Gamesurround Fortissimo II
Author:

Dennis Garcia
Published:
Thursday, June 28, 2001

Introduction
Introduction
In our quest to find the best gaming hardware we look at video cards, motherboards, and processors. Though many of us tend to overlook sound cards. For some this is due to the lack of selection from other companies besides the offerings from Creative. I think it is time to look beyond the Sound Blaster Live!
It seems that just about everyone has a Sound Blaster Live! and instead of releasing a upgrade to this card Creative decided on different flavors that in number rival the ice cream selection at
Baskin Robbins
.
In the past there have been others. Aureal built an excellent chip that supported all of the major API's, had a good market base and even started to market boards under the Vortex name. Though bad things happen and needless to say Creative bought Aureal and from what I can tell stopped all driver support.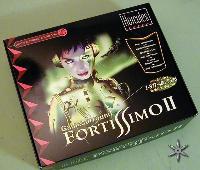 Currently there is another player in the gaming sound market, Hercules. I'm not going to go into past sound card products from them but rather focus on the current models. First out of the gates is the Game Theater XP, a very nice sound "system". I say system since most of the sound processing and connections are handled by an external device similar to the Live! Drive from Creative. Closely following the Game Theater is the Gamesurround Fortissimo II for which this review is based around. These two sound cards are both based on processor chips from
Cirrus Logic
.
In this review I am going to give an overview of the Fortissimo II, and breifly how it compaires to the late Aureal Vortex 2 SQ2500 and the SB Live! Value. I won't have any benchmarks of the Vortex card since the drivers where never completed for Windows 2000.