After careful consideration I have decided to transfer all hardware review activities to a new domain. I purchased Hardwareasylum.com in 2012 and have been working hard to build a new and improved Ninjalane on that domain. If you are reading this you have reached one of the archived articles, news, projects and/or reviews that were left behind during the site migration.
Please update your bookmarks and be sure to visit the new and improved Ninjalane at Hardwareasylum.com
Hercules Gamesurround Fortissimo II
Author:

Dennis Garcia
Published:
Thursday, June 28, 2001

Fortissimo, The Card
The card that is Fortissimo II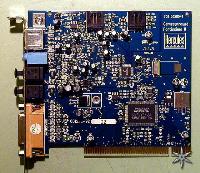 As you can see the Gamesurround Fortissimo II is the signature Hercules blue and is actually smaller in dimension when compared to the Live! Here are some pre installation photos of 3 cards. To the right is the Gamesurround Fortissimo II, below is a Sound Blaster Live! Value and Areal Vortex 2 SQ2500. We also have a Game Theater XP here and where surprised to find that the PCB is actually green.
If you look carefully you will see similarites between the three boards. Granted most are due to standards in the industry like CD and AUX inputs, but look at where the processor chip is located.
Fortissimo II Specs
1 Headphone
2 Stereo Front and Rear
1 Microphone
1 AUX input
2 Optical in/out
1 Gameport

Not quite as many connectors as the Game Theater XP but more than the Sound Blaster Live! Value and Vortex 2. The only disappointing thing is the lack of a digital S/PDIF connector, the optical connectors are great but without it I cannot digitally connect my Altec Lansing ACS56 speakers. I'm sure there is a converter available, I just have to find one.
I'm not going to post actual tech specs for the Gamesurround Fortissimo II here though a complete list is available on Hercules's website.
Here is the direct link
.