After careful consideration I have decided to transfer all hardware review activities to a new domain. I purchased Hardwareasylum.com in 2012 and have been working hard to build a new and improved Ninjalane on that domain. If you are reading this you have reached one of the archived articles, news, projects and/or reviews that were left behind during the site migration.
Please update your bookmarks and be sure to visit the new and improved Ninjalane at Hardwareasylum.com
NVIDIA GeForce GTX 480 Video Card Review
Author:

Will West
Published:
Friday, March 26, 2010

Introduction
GeForce GTX 480 is the first GPU to be produced using the revolutionary Fermi architecture and might be the most advanced GPU ever built. GTX 480 implements all DirectX 11 hardware features, including tessellation and DirectCompute. It also brings forward a vastly improved compute architecture designed specifically to support next generation gaming effects such as ray tracing, order-independent transparency, and fluid simulations.

Game performance and image quality also receive a tremendous boost which allows GTX 480 to enable film-like geometric realism to game characters and objects. In addition, PhysX simulations are much faster than in previous generations.

Of course none of this could be done without rethinking how a GPU processes a scene. The Fermi architecture does this by adding parallel geometry processing units for triangle calculations and GigaThread context switching. Technical talk aside, this allows game developers the ability to use a variety of technologies simultaneously such as using DirectX 11 to render a scene, then switch to CUDA for selective ray tracing, call a Direct Compute kernel for post processing, and finally perform fluid simulations using PhysX.

It is no secret that NVidia is late in launching their DirectX 11 GPU, which of course gets the rumor mills speculating as to when a product will come to market, and what kind of product we can expect when it finally is released. When details surrounding the Fermi architecture were released the biggest question was around how many stream processors the core comes with. The architecture supports 512 "cores", which NVidia will enable or disable to create different product categories. Much to our surprise the flagship card, the GTX 480, comes to us with only 480 cores enabled.

In this review we will be looking at new GeForce GTX 480 and some of the new technology and performance it brings to the table. Does this card have what it takes to be a real graphical powerhouse?, will the 32 core reduction in power be enough to beat the Radeon HD 5870?? We plan to find out, so buckle up and enjoy the fast paced ride of the new GeForce GTX 480.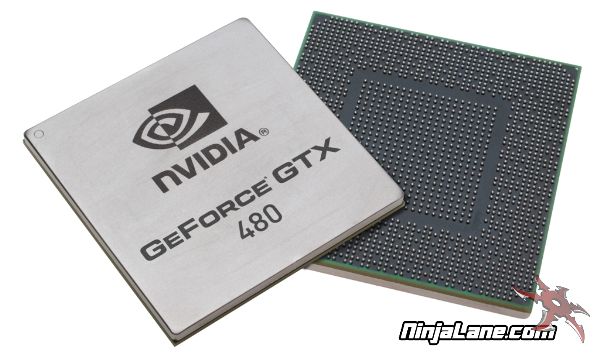 Card Features and Specifications
Fabrication Process: 40nm
Core Clock: 700MHz
Shader Clock: 1401MHz
Stream Processors: 480 units
ROP Units: 48
Texture Filtering Units: 60
Memory Interface: 384-bit
Memory Amount/Type: 1.5GB/GDDR5 Memory
Memory Clock: 924MHz (3696MHz effective)
Memory Bandwidth: 134.5 GB/s
DirectX Compliance: 11
Connection: 16x PCI Express 2.1
Form Factor: Dual Slot
Multi-GPU Support: SLI