reviews
NVIDIA GeForce GTX 480 Video Card Review
Author: Will West

Published: Friday, March 26, 2010

Discuss in the Forums
Dirt 2
Dirt2 is a rally racing game that is huge among the world racing community. The game combines many racing scenarios including dirt and pavement tracks with great physics effects applied to each.

In terms of technology Dirt2 will run in either DirectX 9, or the new DirectX 11 technology depending on what your video card supports. The DirectX 11 edition adds a few new options to the game such as tessellation and Shader 5.0, among others.
Testing of dirt two is with all settings turned to Ultra with 8x anti-aliasing and 16X anisotropic Filtering. Take note that the GeForce GTX 480 and the Radeon HD5870 are running with DX11 at full settings while all other cards are running DX9.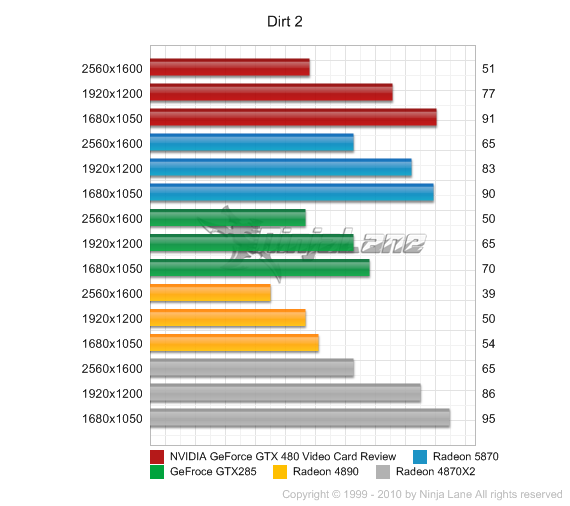 Dirt 2 is the first full DirectX 11 game in our benchmarking suite and shows how the GeForce GTX 480 fairs against the Radeon HD 5870. The 5870 shows that it has the strength to handle the GTX 480 attack without much effort.

The GTX 480 does redeem itself by posting better framerates using full DirectX 11 features than the older generation using DirectX 9, except for the Radeon HD 4870X2 showing the power of Crossfire.