After careful consideration I have decided to transfer all hardware review activities to a new domain. I purchased Hardwareasylum.com in 2012 and have been working hard to build a new and improved Ninjalane on that domain. If you are reading this you have reached one of the archived articles, news, projects and/or reviews that were left behind during the site migration.
Please update your bookmarks and be sure to visit the new and improved Ninjalane at Hardwareasylum.com
Palit GeForce GTS 250 Video Card Review
Author:

William West
Published:
Tuesday, March 03, 2009

Introduction
In the computer industry there is not any kind of rivalry like what we see in the Graphic Card industry giants. Over the years the GPU war has been getting meaner and ugly for the too big boy's ATI and NVidia and as those two fight it out we consumers have benefited by getting better products at lower prices. This is a win, win situation for all gamers out there especially in the mid to low end where you can get an awesome and powerful card for a minimum of cost.

In the same sense console gaming has been holding strong, and many game developer have been staying on the console bandwagon, and giving the PC gamers a primarily ported version of the console game. This is a double-edged sword for most people, but for the guy that wants to crank all the settings up, and hit the higher resolutions the mid-range priced video card is an excellent choice.

In this review we will be looking at the Palit GTS 250 with 1GB of GDDR3 RAM. Looking at the GTS 250 brings up the question of just how new is this card? Well it is more or less a GeForce 9800GTX+ with a bigger frame buffer by adding 1GB of GDDR3 RAM and comes with a little bit better clock speeds. The pricing for this beast is in the suggested retail price of $150. For the mid-range budget this is not too shabby. The new name GTS 250 brings the 9800GTX+ out of the old naming scheme, and makes the overall product offering look much better.

Let's get into this review and see what else the Palit GTS 250 has to offer to the mid-range gamers out there.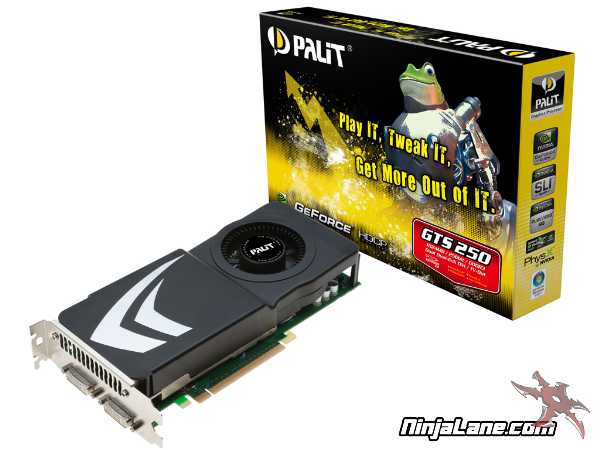 Specifications
Palit GeForce GTS 250 1GB Version
Fabrication Process: 55nm
Core Clock: 738MHz
Shader Clock: 1836MHz
Stream Processors: 128 units
Memory Interface: 256-bit
Memory Amount/Type: 1BG/GDDR3 Memory
Memory Clock: 1100MHz (2.2GHz effective)
DirectX Compliance: 10
Connection: 16x PCI Express 2.0
Multi-GPU Support: SLI