reviews
Palit GeForce GTS 250 Video Card Review
Author: William West

Published: Tuesday, March 03, 2009

Discuss in the Forums
Unreal Tournament 3
Unreal Tournament 3 is a game set sometime in the future that is all about killing. There really is no real story line or single player type game. What UT3 lacks in story line it makes up in all around great gaming fun. The multiplayer is second to none and happens to be a great LAN Party game.
For benchmarking all setting was turned up to the highest setting of 5. V-Sync and SmoothFrames was turned off to get the maximum gaming Frame Per Second. Post Processing was kicked up to intense for a super awesome gaming experience. The level used for the benches is CarbonFire loaded with fun loving bots, with great one liner comments.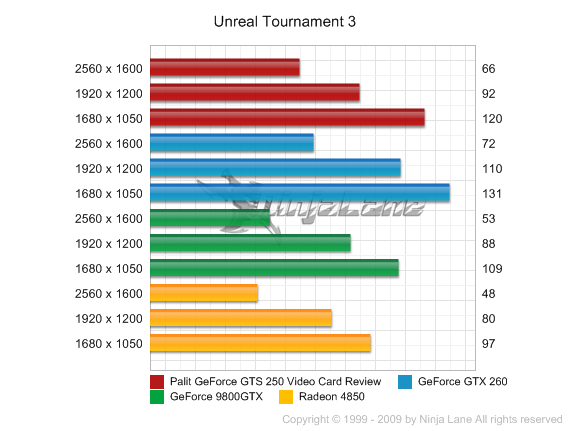 UT3 looks beautiful and with very intense post processing looks out of this world. The Palit GTS 250 just eats it right up and never looks back. All of the cards in this review do a great job of just kicking through UT3 with out to much effort even on the highest resolution of 2560 x 1600. The Palit GTS trumps over the Radeon 4850 like it is nothing.

If you looking to get a great gaming experience on even a super high res 30 inch monitor playing UT3 the GTS 250 will be a great choice especially with the smaller price tag then what is found on the GTX 260.
To add some spice to the UT3 mix. We played out the Lighthouse PhysX map to show the impact of PhysX on the graphic cards. We choose a single resolution of 1920 x 1200 to make an easy comparison with the CarbonFire level without PhysX being used above.

The numbers do not lie. PhysX has a serious impact on the graphic cards frame rates, but does not slow them down enough to really matter. The Palit GTS 250 falls right into place between the 9800GTX and the GTX 260 graphic cards. With PhysX enabled all of the cards take a hit, but come out playing UT3 like it is nothing.