After careful consideration I have decided to transfer all hardware review activities to a new domain. I purchased Hardwareasylum.com in 2012 and have been working hard to build a new and improved Ninjalane on that domain. If you are reading this you have reached one of the archived articles, news, projects and/or reviews that were left behind during the site migration.
Please update your bookmarks and be sure to visit the new and improved Ninjalane at Hardwareasylum.com
Sapphire Radeon HD 5770 Flex Video Card Review
Author:

Will West
Published:
Thursday, August 12, 2010

Introduction
PC gaming enthusiasts and ATI fans can now be happy that Sapphire will be releasing a new Radeon HD 5770 to tackle the Eyefinity boggle. The fundamental problem is the requirement of an expensive DisplayPort monitor to get the full Eyefinity effect. Sapphire is releasing a new HD 5770 card to address this and will allow you to run Eyefinity across three DVI supported monitors. This has been something that everyone has been asking for and at the right price can transform Eyefinity and multi monitor gaming from a rich boy's toy to an average users reality.

In this review we will be looking at the new Sapphire Radeon HD 5770 Flex, a new card from Sapphire designed to provide flexibility in your multi monitor experience. Is there some value to multi monitor gamings? Can the HD 5770 deliver enough performance to make it worthwhile??

Let's read on to find out.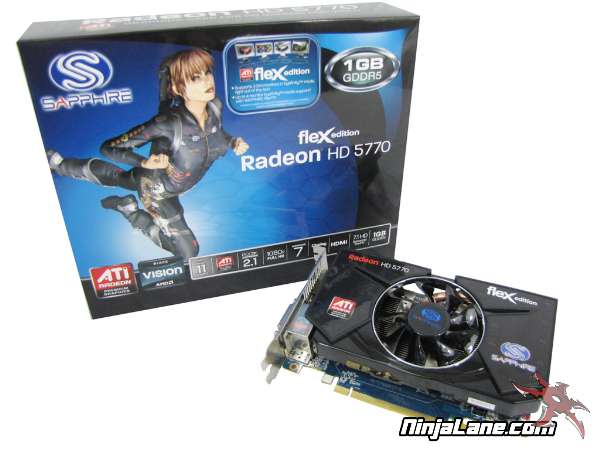 Card Features and Specifications
Fabrication Process: 40nm
Core Clock: 850MHz
Shader Clock: 850MHz
Stream Processors: 800 units
ROP Units: 16
Texture Filtering Units: 40
Memory Interface: 128-bit
Memory Amount/Type: 1GB/GDDR5 Memory
Memory Clock: 1200MHz (4800MHz effective)
Memory Bandwidth: 83.2 GB/s
DirectX Compliance: 11
Connection: 16x PCI Express 2.1
Form Factor: Dual Slot
Multi-GPU Support: CrossFire
Part Number: 288-1E148-020SA