After careful consideration I have decided to transfer all hardware review activities to a new domain. I purchased Hardwareasylum.com in 2012 and have been working hard to build a new and improved Ninjalane on that domain. If you are reading this you have reached one of the archived articles, news, projects and/or reviews that were left behind during the site migration.
Please update your bookmarks and be sure to visit the new and improved Ninjalane at Hardwareasylum.com
Sapphire Radeon HD 6870 Flex Video Card Review
Author:

Will West
Published:
Wednesday, February 23, 2011
Introduction
The Radeon HD 6870 has been on the market for some time now and has been overshadowed somewhat by the 69XX cards but still has a good presence in the midrange market. AMD has established an Eyefinity standard that consists of 4 video outputs giving you the ability to hook up to 4 monitors at a pre-determined resolution. The Sapphire Radeon HD 6870 FleX featured in this review expands on that idea by providing support for a 5th monitor on an inexpensive GPU.

The way Sapphire does this is by using DVI connectors over Displayport connections and splits one of the digital outputs in half to allow one more Single-Link DVI output. This does make that DVI port limited to a maximum resolution of 1920 x 1200 but for most that will be fine for running 3 x 1920 x 1080 displays in Eyefinity.

In this review we will be looking at overall gaming performance of the Sapphire Radeon HD 6870 Flex and also explore some Eyefinity gaming on new DirectX 11 titles as well.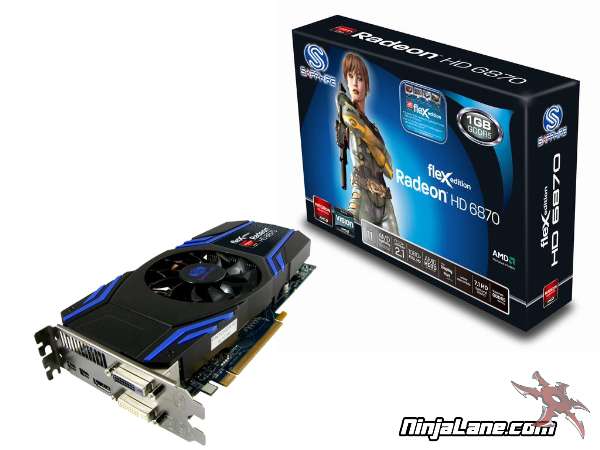 Specifications
Fabrication Process: 40nm
Core Clock: 900MHz
Shader Clock: 900MHz
Stream Processors: 1120 units
ROP Units: 32
Texture Filtering Units: 56
Memory Interface: 256-bit
Memory Amount/Type: 1GB/GDDR5 Memory
Memory Clock: 1050MHz (4200MHz effective)
Memory Bandwidth: 134.4 GB/s
DirectX Compliance: 11
Connection: 16x PCI Express 2.1
Form Factor: Dual Slot
Multi-GPU Support: Crossfire X
Model: 299-1E178-001SA
Warranty: 2-Year Warranty