reviews
Gainward Ultra 760XP GeForce FX 5600 Ultra Video Card Review
Author: Dennis Garcia

Published: Wednesday, September 10, 2003

Discuss in the Forums
Conclusion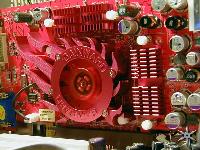 This Gainward card is a very simple and stylish video card, though for how much effort was put into the design of the cooling system a missed opportunity has presented itself. The rather small cooling fan is made of a translucent red plastic but unlike the fans on the Ultra 1200XP the fan doesn't light up.

Image Quality
I didn't directly address video quality in this review for a couple of reasons; first the RAMDAC for all FX5600 GPUs is 400Mhz. At this speed you are pretty much assured that image quality and resolution will be excellent if not comparable to just about anything out there including the 5900 and Radeon 9700 Pro. Second, considering the many factors involved that make up an accurate video quality assessment I find it hard to take one persons opinion without knowing all the facts involved. Image quality tests were performed against a FX5900 Ultra in dual monitor mode using 2 NEC FP 19" monitors running at 100Hz refresh.

Both displays were very crisp with no font or icon fuzziness.
Wrapping up
The Gainward Ultra 760XP isn't what we would call an ultra gamer's video card but it does fill a pretty important gap for the mainstream system builder or weekend gamer in search of an affordable upgrade. Though the uses do not stop there, based on the hardware and SPECviewperf scores the FX5600 Ultra is also an excellent choice for any workstation class PC that doesn't require at ton of onboard video memory. Overall performance isn't the best but for the price, display quality, and supported technologies this card is hard to overlook.
So to finish up in typical Ninjalane fashion here is my list of Good things and Bad things.
The Good Things
Good Included Software
EXPERTool Enhanced Mode
Gainward Design
Stylish heatsink
The Bad Things
Ramsinks won't come off
Cooling fan doens't light up
Ninjalane Rating
Questions or Comments?
If you have Questions or Comments about this article, please stop by
our forums
and let your voice be heard.