reviews
Gainward Ultra 760XP GeForce FX 5600 Ultra Video Card Review
Author: Dennis Garcia

Published: Wednesday, September 10, 2003

Discuss in the Forums
Benchmarking Info
The system as it was tested
Abit IS7 (Springdale) GAT Enabled
Pentium 4 2.4Ghz 800Mhz FSB
AVC Sunflower II
2x Corsair TwinX512-XMS3200LL
Western Digital Raptor
Antec 430watt power supply
12x/40x DVD/CDRom
Windows XP Professional Service Pack 1

Gainward Ultra 760XP (GeForceFX 5600 Ultra 128megs)
Gainward Ultra 700XP (GeForceTi 4400 128megs)
For the purposes of the benchmarks the Ultra 760XP is using the Gainward Enhanced video settings putting the core/memory clock at 450/900.

Unless otherwise noted all anti-aliasing and Anisotropic Filtering (AA/AF) was manually set via the display drivers, Low quality was (application specific) high quality was (4x). This doesn't reflect the highest settings attainable by the drivers but will provide a good cross section for all of the cards being included in this review.
Gainward EXPERTool - Mode Sett
As you can see the "Enhanced" mode for the Gainward Ultra 760XP is quite a bit higher than the default clock.
Overclocking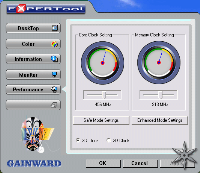 With the EXPERTool in enhanced mode I went into the nVidia drivers and clicked the auto detect button to see if the hardware could go any higher. Much to my surprise the core was raised 6Mhz with 13Mhz being added to the memory clock. It would seem that Gainward has this card all figured out and set the enhanced mode settings as high as possible. Manually adjusting the clock frequencies didn't help so for this review there won't be any overclocking scores.
Benchmarks are next.