News
Cooler Master Introduces the ML360 Sub-Zero
Published:
Tuesday, November 10, 2020

| Posted By:

Dennis
LOS ANGELES, CALIF., October 26th, 2020– Cooler Master, a global leader in designing and manufacturing innovative gaming peripherals and computer components, is introducing the MasterLiquid ML360 Sub-Zero, our revolutionary sub-ambient cooler featuring Thermoelectric Cooling (TEC).
Together in collaboration with Intel®, the ML360 Sub-Zero utilizes TEC with Intel® Cryo Cooling to achieve sub-ambient temperatures for greater cooling capabilities. This collaboration addresses the diversifying and growing community of gamers and power users. Intel and Cooler Master have joined to provide the exceptional solution to deliver colder silicon for higher overclocking frequenices at lower voltages and with improved system stability, amplifying your potential and breaking overclocking barriers. With these higher processing frequencies, enthusiasts can push performance further whether it is for in game experience or professional content creation.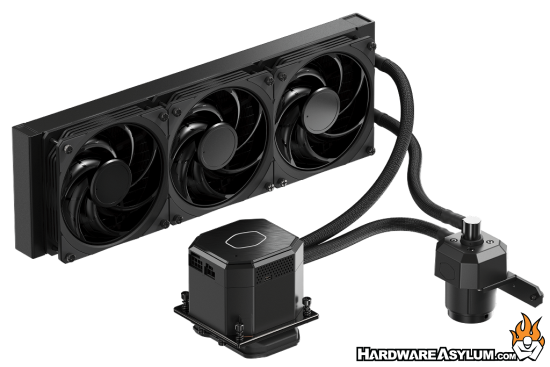 The upgraded hardware features a water block with integrated TEC technology combined with the redesigned 2nd Generation pump, capable of achieving CPU temperatures previously unseen with any All-in-One (AIO) liquid cooler. The 360mm radiator works in unison with the enhanced pump to manage the full heat load of both the CPU and the TEC, delivering new overclocking experiences and gaming performance with ease.
The ML360 Sub-Zero featuring Intel® Cryo Cooling Technology mitigates the problem of condensation inherent to sub-ambient cooling using advanced algorithms, software, and hardware monitoring to make this better suited for the everyday gamer. Compact design, minimal isolation, local environmental monitoring, and intelligent control allow users to take performance right up to the edge with minimal condensation risk, even for extended durations. The intelligent controller also optimizes power consumption during low workloads and provides comprehensive safety and self-diagnostic measures to ensure stability and performance.

Cooler Master MasterLiquid ML360 Sub-Zero
2nd Generation Pump - Enhanced pump delivers higher liquid flow for exceptional
heat removal
Thermoelectric Cooling - Integrated TEC device rapidly responds to variations in
the CPU workload, cooling the CPU effectively and efficiently
IntelR Cryo Cooling Technology - Unique combination of hardware, software, and
firmware designed to help unleash elite performance for gamers, overclockers, and
content creators
Software Enabled - User-friendly software easily fine-tunes the TEC performance for
a customized cooling solution
360 mm Radiator - Enlarged surface area combined with three SF120 fans eliminate
heat quickly and efficiently
Availability:
The MasterLiquid ML360 Sub-Zero will be available for preorder on 11/10/2020 for a starting MSRP of $349.99. For more information, please visit: http://www.coolermaster.com/
Related Web URL: https://www.coolermaster.com/catalog/coolers/cpu-l...
comments powered by

Disqus