News
Patriot presents EP series High Endurance microSDHC/XC cards
Published:
Sunday, January 24, 2021

| Posted By:

Dennis
4K recording under extreme temperature and harsh environments Now available in capacities of 32GB/64GB/128GB.
FREMONT, CALIFORNIA — January 14th, 2021 – PATRIOT™, a global leader in performance memory, SSDs, gaming peripherals, and flash storage solutions, today is excited to announce the market launch of its EP series High Endurance microSDHC/XC cards. These new microSDHC/XC cards are designed for video recording devices needing to operate under extreme weather conditions and harsh environments with outstanding reliability and durability. This new series fully supports Class 10, V10/V30, and offers improved write speed reaching 30MB/per sec to meet the most demanding recording circumstances. The EP series High Endurance microSDHC/XC cards can achieve a sustained 95MB/per sec transfer for superior stability and playback of FHD or UHD videos. Now available at major retailers with 32GB/64GB/128GB capacities.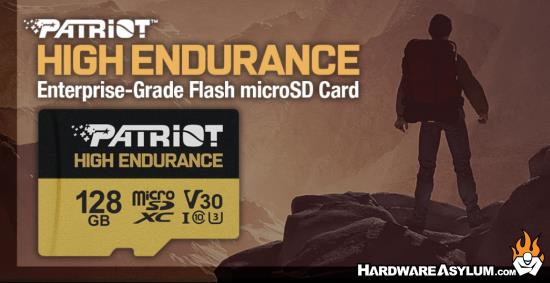 "The EP series High endurance microSDHC/XC cards are tested under rugged conditions, and their specifications have been reinforced, which include high levels of vibration, shock resistance, extreme temperatures, and endurance under a wide range of temperature fluctuations. These cards are also waterproof, dust resistant, and immune to X-ray radiation," said Roger Shinmoto, Vice President of Patriot Memory. "Patriot is dedicated to bringing a total solution with outstanding reliability for the professional user who needs to capture video in a variety of extreme environments, including security system cameras, dashcams, and home monitoring. These cards will work even if you are recording video in the arctic or desert."
An SD card's read and write performance can affect stability and overall system performance, especially in apps dealing with ultra-high-density video. Professional users demand a lot from their devices and need them to work without compromising performance, regardless of weather and environment. The Patriot EP series High Endurance microSDHC/XC has a wide operating temperature of -40°C to 85°C and can deliver 95MBps reads and up to 30MBps writes to eliminate lag while playing ultra-high-density videos in 4K.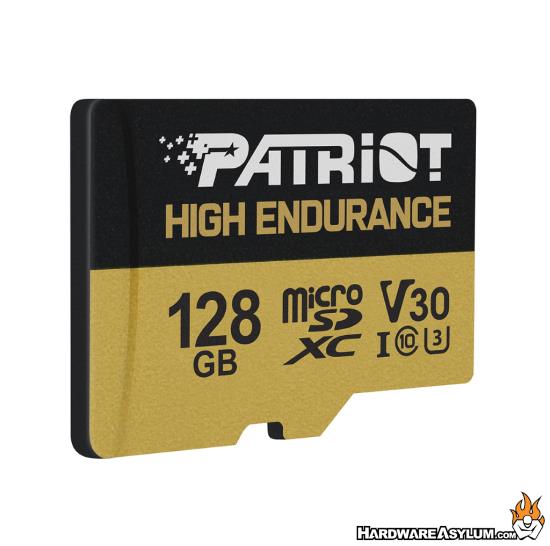 Backed by Patriot's customer service and 5-year warranty, Patriot EP series High Endurance microSDXC is a trustworthy solution for capturing crucial videos from the dashcam, home monitoring, or security system and ultra-high-definition across multiple platforms. Our high endurance microSD cards are part of our great reviewer award winning EP Series line.
FEATURES:
SDA 6.X/ 5.X/ 3.0
Video speed class : C10/V10/V30
Read Speed up to 95MB/s
4K Video recording supported
Wide temp supported: -40°C to 85°C
Water proof
Shock proof
High and low temperature cycle work
Enterprise grade endurance
TBW: 48TB-192TB
SD Adapter included
To learn more about the Patriot EP series High Endurance microSDHC/XC cards: Click here
Related Web URL: https://info.patriotmemory.com/patriot-high-endura...
comments powered by

Disqus