News
YEYIAN Gaming Unveils INTEL Core™ 14th Gen Raptor Lake CPU-Powered Gaming PCs with Unprecedented Gaming Performance
Published:
Monday, October 30, 2023

| Posted By:

Dennis
Brand new ODACHI and YARI prebuilt gaming desktop PCs release the utmost gaming experience.
San Diego, California, October 24th, 2023 - YEYIAN GAMING, a leader in innovative pre-built gaming PCs, peripherals, and computer components, is thrilled to announce the market launch of eight new gaming desktop PCs powered by the latest INTEL Core i9/i7/i5 14th Gen unlocked CPUs. Four of the eight new models are available exclusively for purchase on Newegg. These newly launched models are meticulously crafted to redefine the gaming experience, catering to both professional gamers and avid enthusiasts alike.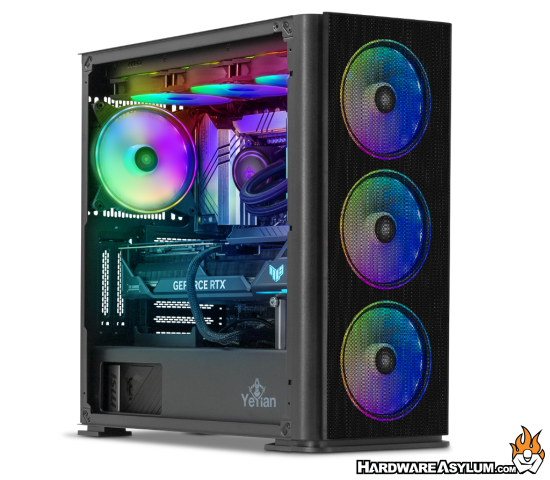 The highlight of this remarkable launch is the fusion of INTEL 14th gen processors with NVIDIA RTX 4000 series graphics cards, culminating in an unparalleled gaming extravaganza that redefines the boundaries of what's possible in the gaming world.
These new models are designed to deliver the ultimate gaming performance and experience for pro gamers and enthusiasts. The new models include five ODACHI models and three YARI models, each featuring a different configuration for various gaming and performance levels, which are: ODACHI 49KFD-4901U, ODACHI 49KFC-4901U, ODACHI 49KFC-4901N, ODACHI 49KFC-47T1N, ODACHI 49KFC-47T1U and YARI 47KFB-47T1N, YARI 47KFB-47T1U, YARI 47KFB-46T1N.
The ODACHI models are housed in the YEYIAN Vector Elite gaming PC case, offering a spacious interior and a sleek design. The YARI models are housed in the YEYIAN Arc gaming PC case, providing a compact and elegant solution to the gaming PC. All models are equipped with pre-installed ARGB cooling fans and an AIO liquid cooler for excellent thermal performance and maximized airflow to guarantee that 14th gen processors and RTX 4000 graphics cards will be operating with unparalleled stability and reliability.
"YEYIAN and INTEL have partnered again and are thrilled to offer an entire line of gaming desktop PCs built on the 14th Gen platform. The first eight models are designed to unleash the full potential of the Core i9/i7/i5 14th Gen processors, which are the ultimate choice for gamers and enthusiasts. With the latest game titles demanding more power from the processor, the INTEL Core series processor delivers accountable and robust performance that gamers always rely on. And when these new gaming PCs are paired with NVIDIA's RTX 4000 series graphics cards, the gaming experience will be taken to a whole new level." explained Frank Lee, the Vice President of YEYIAN GAMING.
The eight newly presented YEYIAN ODACHI and YARI gaming desktops are designed to be an affordable option for hardcore gamers. All INTEL 14th Gen desktop systems are built from carefully selected PC components, including NVMe M.2 SSDs, the DDR5 DRAM modules, 80+ Gold and Platinum power supplies, WIFI 6, and Windows 11 pre-installed. For the best in style and cooling performance, the YEYIAN Vector Elite and Arc gaming case are used and come with 4 PWM RGB system fans and CPU AIO liquid coolers.
The new INTEL 14th Gen CPUs Raptor Lake are the latest desktop processors from INTEL and offer higher clock speeds than the 13th Gen CPUs across both performance and efficiency cores. They are fully compatible with the 700- and 600-series motherboards with a simple BIOS update and include three unlocked and overclockable models: the Core i9-14900K/KF, the Core i7-14700K/KF, and the Core i5-14600K/KF. The Core i9-14900K/KF has 24 cores and 32 threads and can reach up to 6 GHz. The Core i7-14700K/KF has 20 cores and 28 threads with four more efficient cores than the previous generation. The Core i5-14600K/KF has 14 cores and 24 threads with two more performance cores than the previous generation. The new INTEL Extreme Tuning Utility (XTU) also features the AI Assist feature, which allows one-click AI-guided overclocking for select unlocked INTEL Core 14th Gen desktop processors.
These newly launched INTEL 14th Gen ODACHI and YARI II gaming desktop PCs are now available at major US retailers. All YEYIAN Gaming desktops come with the YEYIAN-Shield Silver Care program warranty to provide hassle-free customer support for gamers and content creators.
YEYIAN GAMING invites gamers, tech enthusiasts, and the media to explore the future of gaming with these remarkable machines.
To learn more about YEYIAN INTEL 14th Generation gaming desktops: https://us.yeyiangaming.com/intel-14th-generation
Related Web URL: https://us.yeyiangaming.com/intel-14th-generation
comments powered by

Disqus