After careful consideration I have decided to transfer all hardware review activities to a new domain. I purchased Hardwareasylum.com in 2012 and have been working hard to build a new and improved Ninjalane on that domain. If you are reading this you have reached one of the archived articles, news, projects and/or reviews that were left behind during the site migration.
Please update your bookmarks and be sure to visit the new and improved Ninjalane at Hardwareasylum.com
Building a HTPC
Author:

Dennis Garcia
Published:
Monday, December 27, 2010
Assemble the HTPC
Keep in mind that building a custom computer is a two step process. You first need to mock everything up, In doing so you'll map out where everything goes and ensure it all fits. After that you can concentrate on cable routing and cooling paths in preparation of final assembly.
The first thing I installed was the
Gigabyte GA-880GMA-UD2H motherboard
. The board is based on the AMD 880 chipset supporting AM3 and DDR3 processors and memory. To power the board I'm using an old AMD 720+ X3 Black Edition processor and 4GB of GSkill DDR3 memory. There is no intent to overclock the system but if I need more power the black edition processor makes it easy.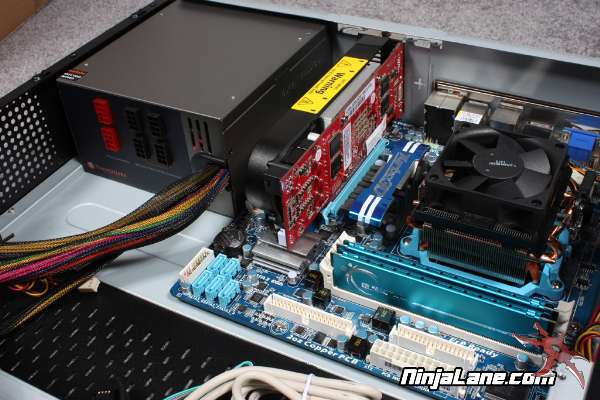 You will notice that I'm using an OEM heatsink, normally I would strongly suggest against this but as you can imagine there are very few half height heatsinks available for the AMD platform. On a positive note the stock cooler will provide more than enough cooling for regular DVD and Blu-ray playback.

The GA-880GMA has a perfect PCI Express layout for this build. I will be covering the secondary 16x PCI Express slot using the GTS 450 however this does leave the 1x PCI Express slot open for my anticipated sound card upgrade.

For now I'll just be using HDMI audio to keep things clean.