After careful consideration I have decided to transfer all hardware review activities to a new domain. I purchased Hardwareasylum.com in 2012 and have been working hard to build a new and improved Ninjalane on that domain. If you are reading this you have reached one of the archived articles, news, projects and/or reviews that were left behind during the site migration.
Please update your bookmarks and be sure to visit the new and improved Ninjalane at Hardwareasylum.com
The playtime case mod
Author:

Dennis Garcia
Published:
Sunday, June 10, 2001

Introduction
UPDATE!! Playboy has contacted me and requested that I remove all illegal usage of the RABBIT HEAD DESIGN from my website and from the side of the case. Of course they where glad to know that I used their logo for this project but since I didn't ask for permission I was in violation of their current license agreement. In knowing this I cannot be held responsible for your actions if you choose to duplicate this case mod.

Once again the dremel tool has been put to service. This time to complete a simple looking, yet quite complex mod that we here at ninjalane like to call "playtime". Believe it or not but my girlfriend wanted me to do this mod for her. You see she has this thing for bunnys, and when she asked me to put a window into her new computer case in the shape of a bunny. I just had to ask "What one?"
I think you can guess the result.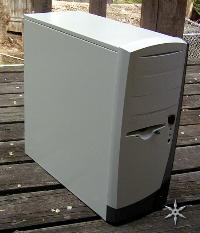 Here is the case that my girlfriend picked out from the stock at
CaseDepot.com
. The case features a completely tool-less design that uses pressure clips to hold the panels in place.
Like I said this mod is quite involved. I will be painting the entire case, all of the off while pieces will be painted with a gloss white, the case interior will be painted black. 3 80mm fans will be installed, and a bunny shaped window will be added. As you can see the case contains some translucent plastic pieces on the face, We choose to carry a theme throughout the case based on these peices, so the colors are to reinforce this theme. First things first though I needed some research material.