After careful consideration I have decided to transfer all hardware review activities to a new domain. I purchased Hardwareasylum.com in 2012 and have been working hard to build a new and improved Ninjalane on that domain. If you are reading this you have reached one of the archived articles, news, projects and/or reviews that were left behind during the site migration.
Please update your bookmarks and be sure to visit the new and improved Ninjalane at Hardwareasylum.com
Cooler Master HAF X Case Review
Author:

Will West
Published:
Wednesday, May 26, 2010

Introduction
The next step in the evolution of High Air Flow technology from Cooler Master is here and it is called the HAF X, HAF cases have really taken the enthusiast community by storm by offering a true high airflow platform that not only works well for an aircooled computer but offers up a lot in terms of watercooling configurations.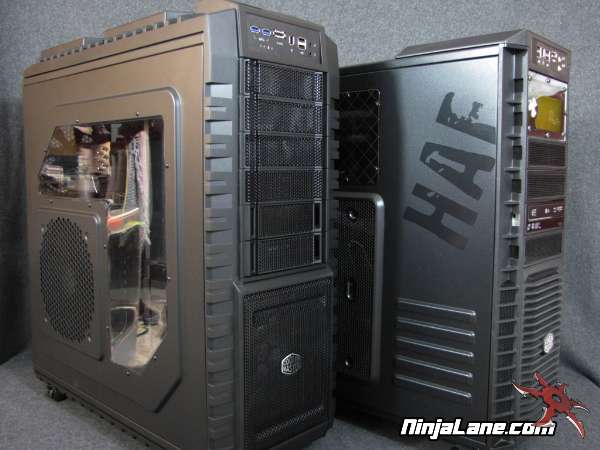 The HAF X is a huge case that stands just a little bit taller than the HAF 932 and is quite heavy due to the .06mm steel frame construction. Plastic panels can be found on the front and top of the case to complete the bold design.
Both side panels bulge out slightly to increase the internal volume and help make running cables just a little easier. By comparison the new panel design appears cleaner and more uniform than what was found on the HAF 932.
Specifications
Motherboard: Micro-ATX/ATX/E-ATX
Drive Bays: 6 x 5.25" External
Drive Bays: 5 x 3.25" Internal
Cooling: Front: 1 x 200 x 30mm Red LED Fan, Top: 1 x 200 x 30mm Standard Fan, Rear: 1 x 140 x 25mm Standard Fan Side: 1 x 200mm 30mm Standard Fan, Optional Top: 200mm Fan, VGA Fan Dock 1 x 120mm Fan, VGA Holder 1 x 80mm Fan
Front I/O Ports: 2 x USB 3.0, 2 x USB 2.0, 1x Firewire, 1 x eSATA, 1 x MIC, 1 x Audio
Net Weight: 32 pounds
Dimensions: (L)23.2 x (W)9.1 x (H)21.7 inches
Expansion Slots: 9