After careful consideration I have decided to transfer all hardware review activities to a new domain. I purchased Hardwareasylum.com in 2012 and have been working hard to build a new and improved Ninjalane on that domain. If you are reading this you have reached one of the archived articles, news, projects and/or reviews that were left behind during the site migration.
Please update your bookmarks and be sure to visit the new and improved Ninjalane at Hardwareasylum.com
Mushkin HP2-6400 4GB Memory Review
Author:

Dennis Garcia
Published:
Wednesday, February 27, 2008

Benchmarks - Overclocked
Overclocking is one of the few ways to really extract the most performance from a system but only to a certain level, after of which things get a little dicey.

As with all of our reviews we pit the default speed system against the overclocked one in a head to head byte match. The results of our tests are below.
CPU-Z 1066Mhz
We have prepaired 2 different overclocks for this section. Our first features a slightly higher processor overclock but lower memory speed and timings. The effective memory overclock here was 1066Mhz and was designed to match our Patriot modules in speed. This overclock is also designed to illustrate that properly tuning your system can sometimes yield better results over a flat out frequency race.
CPU-Z 1124Mhz
The secondary overclock is one of flat out overclocking. the effective overclock here is 3.0Ghz on the processor with a memory clock 1124Mhz. That's almost 325Mhz over the rated speed!
SiSoft Sandra Various Overclocks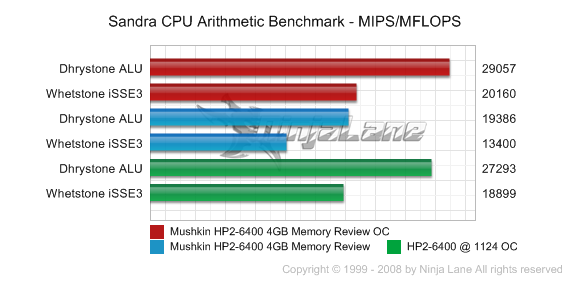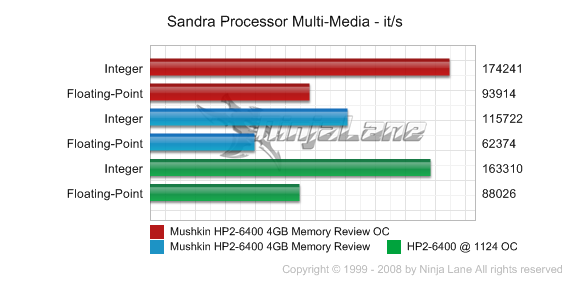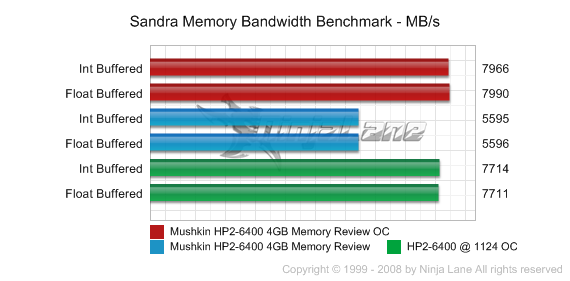 Cachemem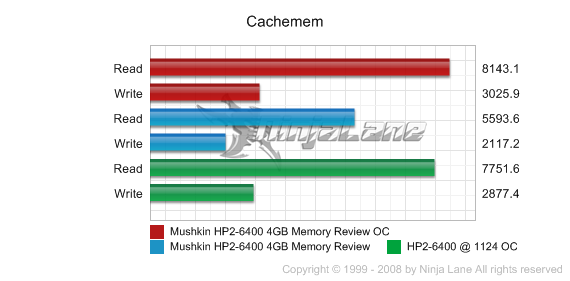 Quake 4

Overclocked Conclusion
There are a couple of points to discuss with our overclocking results.

First to reach the recorded 1124Mhz overclock we needed to increase the memory voltage to 2.38v which is slightly above the recommended value. A point could be argued that older HP2 modules required almost 2.5 volts to run and 2.38v is well within that range. However with a good batch of performance memory comes a reduction of required voltage and thus a shorter warranty leash.

Second, all of the overclocks featured here were done while the memory timings were set to AUTO in the DFI BIOS. DFI has been really good at automatically controlling memory performance and even adjusted the timings beyond what could be manually set. (tRCD and tRP set to 8 where 7 is the highest manual option). Our only complaint is that the auto setting tends to play things safe. For instance we could still reach 1066Mhz with everything manually set to (5-4-4-12) at the recommended 2.1v memory voltage but the performance gain was negligible so we decided to kept things simple.

As for the numbers, we are happy with the results, in one hand you have a "matched" CPU to memory frequency setting giving us the best performance while the flat out memory overclock featured and slower CPU speed and still gave us a run for our money.