After careful consideration I have decided to transfer all hardware review activities to a new domain. I purchased Hardwareasylum.com in 2012 and have been working hard to build a new and improved Ninjalane on that domain. If you are reading this you have reached one of the archived articles, news, projects and/or reviews that were left behind during the site migration.
Please update your bookmarks and be sure to visit the new and improved Ninjalane at Hardwareasylum.com
Mushkin HP2-6400 4GB Memory Review
Author:

Dennis Garcia
Published:
Wednesday, February 27, 2008

Benchmarks - Synthetic
Time for the benchmarks!

The system as it was tested
DFI LAN Party UT NF680I LT SLI-T2R
Core 2 Duo E6400 (2.13GHz) 2MB L2 cache 1066MHz FSB (Dual-Core)
Custom Watercooling
Chaintech SE6600G GeForce 6600GT PCI Express
Western Digital Raptor 36gig SerialATA 10000RPM
Hiper HPU-4S730 730w power supply
12x/40x DVD/CDRom
Windows XP Professional Service Pack 2

Memory tested on this system
2x Mushkin PH2-6400 DDR2 (5-4-4-12) 2gig
2x Patriot PC8500 DDR2 1066 (5-5-5-9) 1gig
2x Adata Vitesta DDR2 800 (5-5-5-15) 512megs

You should immediately notice a series of differences among our module selection, Our Patriot modules feature the fasted rated speed while the Adata module feature the lowest capacity. They all happen to be rated at CAS5 so it will be interesting to see how this plays out.
CPU-Z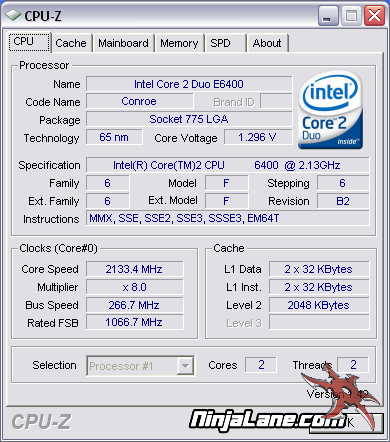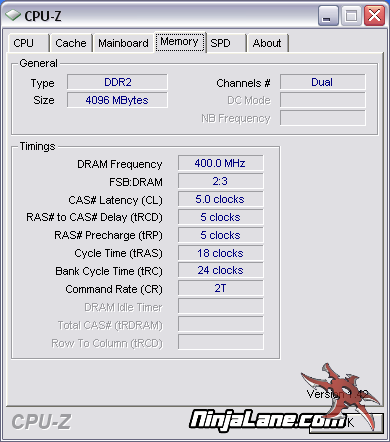 SiSoft Sandra
Sandra is a software collection of synthetic benchmarks that will give us a basic idea as to what a system is capable of. It should be noted that SiSoft numbers change depending on what version you have installed; these were recorded using Sandra Professional Version 2007.9.10.105
Since we tested on the same system we are including the CPU and Multimedia benchmarks as a reference.


Cachemem
Cachemem is a synthetic benchmark used to test bandwidth and latency.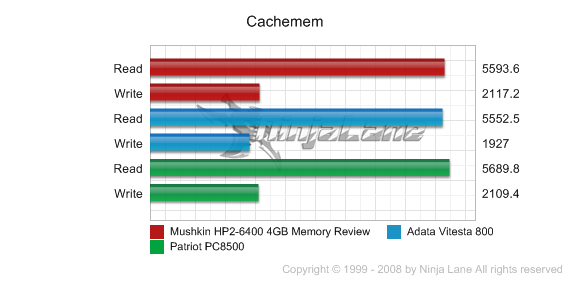 Quake 4
Quake4 is the latest installment in a long line of "Quake" games from id Software. While the storyline is more in line with Quake2 the game engine is taken from Doom3. Together they make for a very exciting game with some pretty amazing graphics. For this benchmark we're using the v1.2 patch and included nettimedemo id_demo001. To run this demo pull down the console and type "playnettimedemo id_demo001", when complete pulldown the console again to see your score.

Synthetic Conclusion
Synthetic performance never really tells the entire story but is a good benchmark of what the system "could" do under the right conditions.

In this case we are seeing what you would expect from an 800Mhz memory module when compared to other modules that share a similar latency. Given that our memory clock remained the same throughout these tests latency would have been the only variable and the results are almost dead even.

That is until we get to the real world test, Quake 4. We used Quake 4 to illustrate how total memory size comes into play and it is no surprise that our 4GB Mushkin kit was the big winner here.