reviews
Soltek SL-75DRV4 Motherboard Review
Author: Dennis Garcia

Published: Saturday, February 09, 2002

Discuss in the Forums
Board Layout
Board Layout and Features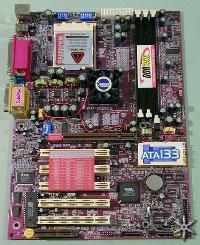 The SL-75DRV4 is a great display motherboard, everything of interest is labeled with a sticker describing its purpose. ATA133, DDR266 and even a warning on the CPU socket give this board an edge over the competition if viewed in a display case or store window.
This board has something else to offer to the avid case modder that likes to show off their stuff, a purple PCB. Soltek has started a new "colored" trend with their products. Athlon motherboards are purple where as Pentium motherboards are red. The purple color isn't as rich as what you see on the website but rather more of a really dark pink.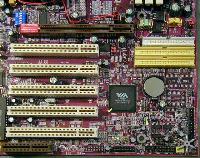 Not many of us pay attention to the Southbridge since it's features never really change, though the SL-75DRV4 was inspired the new ATA133 Southbridge from Via called the VT8233A.
North and South bridges are connected by what Via calls "V-Link Hub Architecture" at 266MHz and is really the only major difference between the 75DRV4 and 75DRV2.