reviews
Soltek SL-75DRV4 Motherboard Review
Author: Dennis Garcia

Published: Saturday, February 09, 2002

Discuss in the Forums
Board Layout Cont.
Memory and Overclocking Featur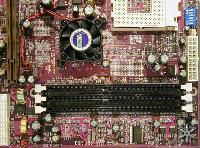 Here we see the 3 DDR memory banks, during this review I used Corsair XMS2400 and XMS2700 DIMMS and discovered no compatibility problems even under overclocking. In this photo you will also see a little red LED, this will light up if power is flowing to the DDR memory banks and of course if it is lit you shouldn't add or remove memory.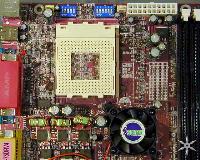 This area of the motherboard is a very busy place. Above the processor socket are two sets of dipswitches. The one of the left controls the processor multiplier setting. If your processor is unlocked and you manually set this the LED to the left of the processor socket will light up. The switches on the right control the processor voltage and range from 1.1v to 1.85v. The CPU socket is equipped with heat sink mounting holes and a temperature sensor located in the middle of the socket; I found this not to be completely accurate with XP processors.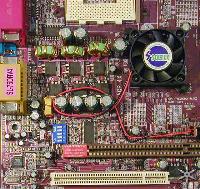 This last set of dipswitches allows you to set the Front Side Bus manually though with a very limited frequency selection. (100,120,133.3,140,150) The recommendation would be to leave these switches alone and choose a FSB frequency from the bios.