After careful consideration and much regret I have decided to transfer all hardware review activities to a new domain. I purchased Hardwareasylum.com in 2012 and have been working hard to build a new and improved Ninjalane on that domain. If you are reading this you have reached one of the archived articles, news, projects and reviews that were left behind during the site migration.
Please update your bookmarks and be sure to visit the new and improved Ninjalane at Hardwareasylum.com
reviews
Adata T703 2GB Mickey Mouse Flash Drive
Author:

Dennis Garcia



Published:
Sunday, February 17, 2008

Discuss in the Forums
Technical Specifications
The T703 Flash Drive is currently available in 2 different colors (Grape / White) and currently available in a single storage size of 2GB. The interface is USB 2.0 and fully supports Windows Readyboost technology making speed and data transfer extremely fast.

The drive featured in this review is a 2GB unit in the Fancy White color.
HD Tach 3
We're using HD Tach 3 for our benchmarking. HD Tach is a low level hardware benchmark designed to test the various aspects of storage devices such as HDDs, RAID arrays, Removable drives etc. The results we are interested in here include the Random Access Time and Average Read Speed.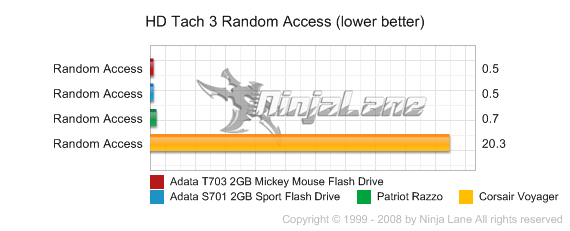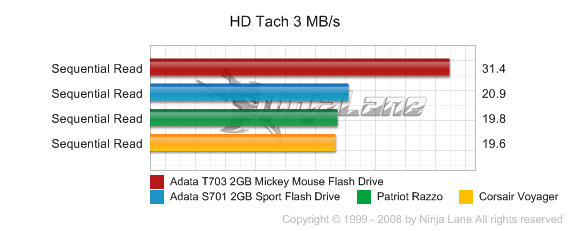 The results of our benchmarks are typical of ReadyBoost enabled USB drives, the Random Access time is extremely fast meaning that finding files will take considerably less time over other sources like a Hard Drive. Throughput was a bit of a shock. We fully expected performance to be equal to the S701 but as the charts show the T703 was quite a bit faster.
In both of our HD Tach tests the Adata T703 came out on par or well ahead of the control samples, The drive had the fastest Sequential Read speeds of them all and an extremely low access time. Keep in mind that if you are simply storing files on this drive you're not likely to see any sort of performance gain from the lower access time. The benefit comes when you're running programs from your flash drive or using it as a ReadyBoost device.
Now for the ever popular list of Good things and Bad things.

Good Things
Exciting design
Small Size
Fast!
Unique Disney branding
Stylish to match any decor
Mickey charm and carrying chain
Multi purpose device (photos, mirror, keychain, cellphone charm)

Bad Things
Small items are easy to lose
Could pose a choking risk to small children often associated with Disney products.
Likely to be stolen by cats looking for something to play with.
Ninjalane Rating

We would like to thank
Adata
for helping to make this review possible.
Questions or Comments?
If you have Questions or Comments about this article, please stop by
our forums
and let your voice be heard.