After careful consideration I have decided to transfer all hardware review activities to a new domain. I purchased Hardwareasylum.com in 2012 and have been working hard to build a new and improved Ninjalane on that domain. If you are reading this you have reached one of the archived articles, news, projects and/or reviews that were left behind during the site migration.
Please update your bookmarks and be sure to visit the new and improved Ninjalane at Hardwareasylum.com
EVGA Taiwan Office Visit
EVGA Taiwan Office Visit
Author:

Dennis Garcia
Published:
Thursday, June 17, 2010

Overclocking Lab
Here we have the lab where all of the magic happens, overclocking magic that is. Shamino hangs out in here a lot when he is doing his system tuning thing. The room also doubles as a storage overflow and reworking room when needed.

In the corner you will find a mini version of a solder bath. You see when components are being soldered to the back of a motherboard the assembly line passes the boards over a molten pool of solder. Capillary action will pull the solder up the exposed leads and firmly solder the leads to the PCB. Well the small green device in the corner is a mini version of that solder bath and is used to remove and attach board mounted components.
Notice the silver thing on the left in the previous photo? That is one of 2 LN2 tanks in the Overclocking Lab, seems they had some left over from the Computex show.

Shamino was setup to do some overclocking tests for sales and marketing the day I arrived but wasn't going to get started until early the next day. His goal this time was to break some world records and generally make people jealous.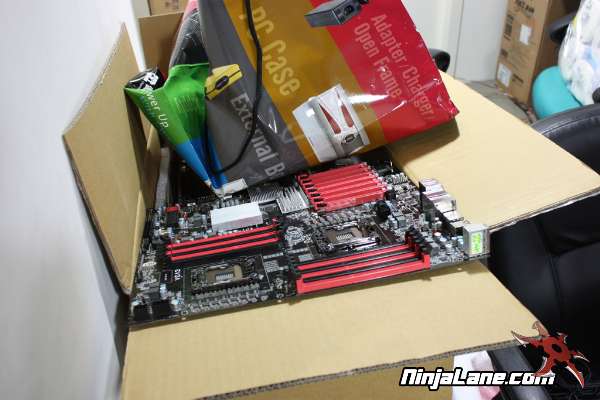 On the way out of the Overclocking lab I noticed this little guy just sitting on a box, sadly he didn't want to come home with me.
Conclusion
The EVGA offices in TW are not really that big but they have the capability to do just about anything from the design of new PCBs, testing for manufacturing defects, and tuning of finished products for maximum performance and compatibility. I would like to thank Peter Tan and the EVGA team for letting me roam around the office and take photos for an hour or so, maybe next year I can get my hands on some LN2.