After careful consideration I have decided to transfer all hardware review activities to a new domain. I purchased Hardwareasylum.com in 2012 and have been working hard to build a new and improved Ninjalane on that domain. If you are reading this you have reached one of the archived articles, news, projects and/or reviews that were left behind during the site migration.
Please update your bookmarks and be sure to visit the new and improved Ninjalane at Hardwareasylum.com
EVGA Taiwan Office Visit
EVGA Taiwan Office Visit
Author:

Dennis Garcia
Published:
Thursday, June 17, 2010

EVGA Industrial Office
During a recent visit to Computex I ran into an overclocker friend of mine who happens to work for EVGA here in Taiwan. Having always enjoyed doing the random office visit I asked Shamino if it would be ok to swing by and see what It was like to work at EVGA.

The EVGA offices are not unlike any other industrial office; in fact, it seems that so far most of the industrial offices in Taiwan all have the same decorator. The cube walls are of the half height variety and the test stations are comprised of shallow tables with shelving stacked on top. It works but you tend to run out of space rather quickly.

Not to mention after a trade show any bit of free space is consumed with gear they bring back from the booth, I'm sure we all can relate.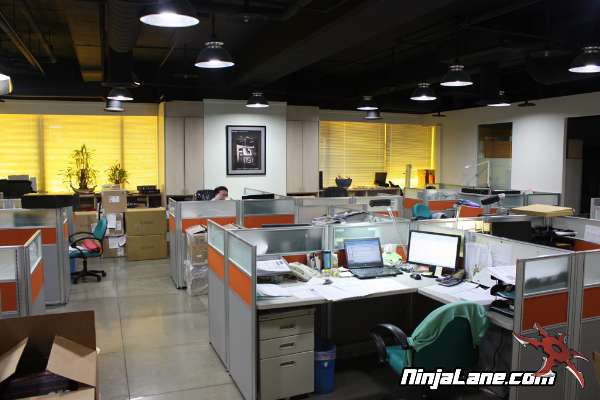 The office is actually quite full. However when I arrived it was lunch time so everyone was either catching a quick break, or were off eating lunch. While this did make it pretty easy to move around the office I wasn't able to talk with anyone either.

The EVGA offices in Taiwan are tasked with the design, development, and testing of the various products that EVGA manufactures. The office cubicles seen here are located in the center of the office floor, to the left you will find the VGA testing room, to the right is the motherboard department and overclocking facility.