After careful consideration I have decided to transfer all hardware review activities to a new domain. I purchased Hardwareasylum.com in 2012 and have been working hard to build a new and improved Ninjalane on that domain. If you are reading this you have reached one of the archived articles, news, projects and/or reviews that were left behind during the site migration.
Please update your bookmarks and be sure to visit the new and improved Ninjalane at Hardwareasylum.com
EVGA Taiwan Office Visit
EVGA Taiwan Office Visit
Author:

Dennis Garcia
Published:
Thursday, June 17, 2010

VGA Room
The VGA room is what you would expect, there are several stations dedicated to compatibility testing, performance tuning, and general PCB QA.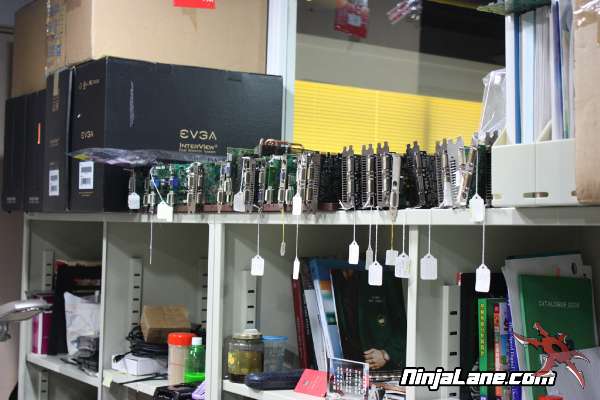 Above many of the stations you will find endless rows of video cards with little paper tags. This inventory reflects the entire production history of EVGA video cards and is available for testing or comparison at any time.

If you look carefully at the testing boards you will notice a small riser in the primary PCIE slot. This is to protect the motherboard from the everyday wear and tear related to removal and insertion of video cards. Considering that each test station is tuned a certain way it is important to make sure it lasts.