After careful consideration I have decided to transfer all hardware review activities to a new domain. I purchased Hardwareasylum.com in 2012 and have been working hard to build a new and improved Ninjalane on that domain. If you are reading this you have reached one of the archived articles, news, projects and/or reviews that were left behind during the site migration.
Please update your bookmarks and be sure to visit the new and improved Ninjalane at Hardwareasylum.com
Installing an Intel 1366 Core i7 LGA Processor
Installing an Intel 1366 Core i7 LGA Processor
Author:

Dennis Garcia
Published:
Wednesday, July 15, 2009

Processor Install
The first step is to open the LGA socket by moving the lever to the side and lifting it away from the socket. The cover will then be allowed to move and swings in the opposite direction.

All chips have a number 1 pin indicator and if you look carefully at our photo you'll see an printed triangle in the lower right, this is where number 1 starts and will align with an arrow found on the top of the processor. To help with installation there are 2 alignment blocks in the socket that will line up with 2 cutouts on the processor. Align these together and you have the proper orientation.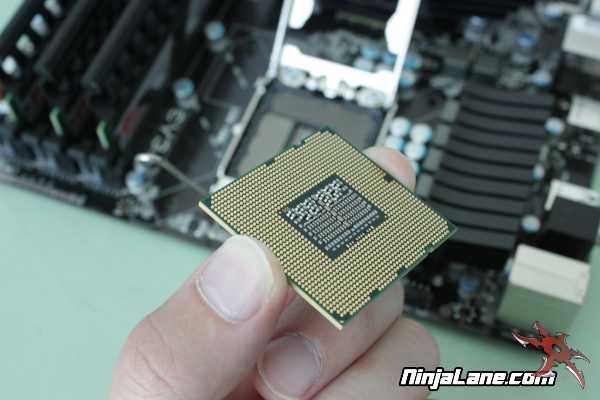 The thing to keep in mind when installing a processor like this is that it needs to be set in place as flat as possible, if the processor is installed at an angle you risk binding the pins and could cause damage to your motherboard.

Here is a little tip for holding the processor for an easy installation. In looking at the processor socket you will see 2 rather large cutouts at opposite sides of the socket. These cutouts are to allow your fingers to grip the processor in the event you want to replace it. Well the opposite is true for the installation. Simply grab the processor with 2 fingers as shown in the photo, lower it over the socket and drop it in place.
Next swing the retention clip over the processor, and lock it into place with the latch, You'll likely hear the pins being scrunched down during this process. The sound is normal.