After careful consideration I have decided to transfer all hardware review activities to a new domain. I purchased Hardwareasylum.com in 2012 and have been working hard to build a new and improved Ninjalane on that domain. If you are reading this you have reached one of the archived articles, news, projects and/or reviews that were left behind during the site migration.
Please update your bookmarks and be sure to visit the new and improved Ninjalane at Hardwareasylum.com
ATA100 Cable Rounding - How To
Author:

Dennis Garcia
Published:
Thursday, July 12, 2001

Rounding Part 1
ATA Cable Rounding
Rounding your cables has become quite popular in recent times since it increases airflow in your case and makes things look good. With the addition of the ATA66 and ATA100 standards the old 40wire cables were replaced with new 80wire cables. The extra wires are signal grounds acting as a buffer, reducing cross talk and data loss. Knowing this the task of rounding the cable similar to how you would round a 40wire cable becomes quite difficult. If you split all 80 you run the risk of data loss but more importantly your ATA66/100 controller will step the bus speed down to ATA33 thinking you have a 40wire cable connected.
So short of buying a machine rounded cable from a place like
Coolerguys.com
how can you round your ATA66/100 cables safely??
The following is what we at the Ninja Lane Labs have come up with.
(catchy name huh??)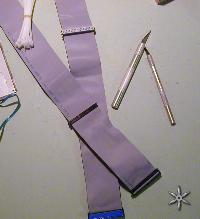 Some of the tools you will need include a sharp knife; we are using a small hobby knife left over from my days in Architecture school. Some small zip ties, a pair of wire cutters to trim the zip ties and of course an 80wire ATA cable.
Here is an untouched ATA100 cable that comes with a Promise FastTrack100 Card. (yes I actually bought one).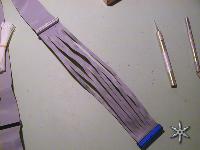 Taking the hobby knife I cut the 80wire cable into 8 segments. That would be between wire 10 and 11 on the ribbon and then repeat until you reach the end. This will create a series of ribbon strips that you can later stack to make the cable round. Some of the other online guides suggest smaller ribbons in the range of 5-8 wires I felt these to be too small. For one you are going to have to make more cuts, you run a higher risk of cross talk, plus when bunched together you get a nice square block of ribbon wire.