After careful consideration I have decided to transfer all hardware review activities to a new domain. I purchased Hardwareasylum.com in 2012 and have been working hard to build a new and improved Ninjalane on that domain. If you are reading this you have reached one of the archived articles, news, projects and/or reviews that were left behind during the site migration.
Please update your bookmarks and be sure to visit the new and improved Ninjalane at Hardwareasylum.com
G.Skill RipjawsX PC17000 CL7 Memory Review
Author:

Jim Manis
Published:
Monday, April 04, 2011
Benchmarks - Overclocked
As with all of our reviews we pit the default speed system against the overclocked one in a head to head byte match. The results of this are below. The effective overclock here is 3.75Ghz with a BCLK of 107Mhz for a resulting memory clock of 2284Mhz. That is a very respectable 150Mhz overclock. We could have probably acheived more speed but 107Mhz was all the processor could dish out.
Most P67 motherboards limit RAM speed to 2133Mhz, but some allow up to 2400Mhz and our ASUS P8P67Pro is one that does. We were unable to get 2400 to operate in our testing but some users may be able to make this happen by loosening the timing or overvolting.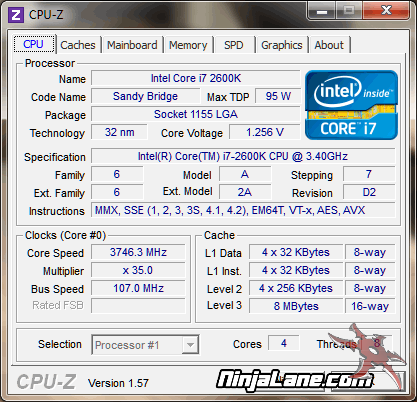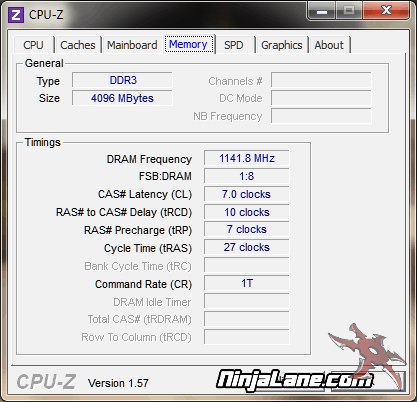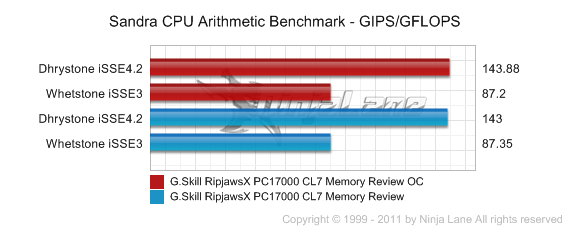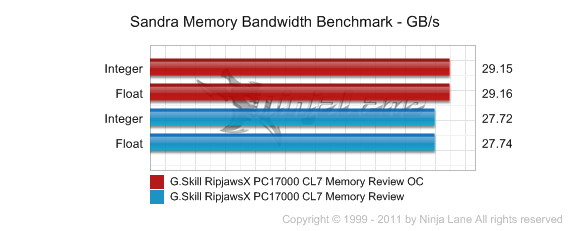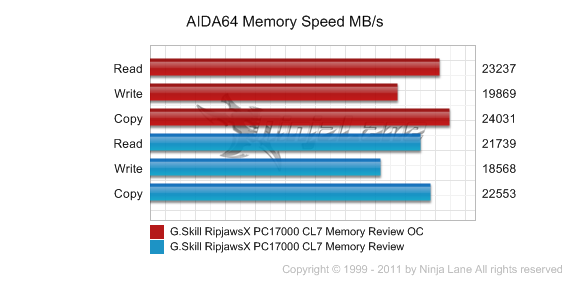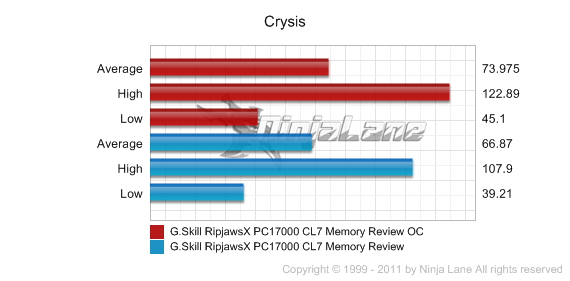 Lets start out by reminding our readers that the video card used in this review was different from previous reviews. The results of this are most apparent in Crysis where the Nvidia card dominates but as you can see the scaling was still nice, and shows CPU and memory still play a large role in getting games to play smoother.

We saw a solid performance boost in almost every category and the fact there is stable overhead allows the enthusiast a lot of freedom especially considering the limited amount of BCLK overclocking available on the Sandy Bridge platform.