After careful consideration I have decided to transfer all hardware review activities to a new domain. I purchased Hardwareasylum.com in 2012 and have been working hard to build a new and improved Ninjalane on that domain. If you are reading this you have reached one of the archived articles, news, projects and/or reviews that were left behind during the site migration.
Please update your bookmarks and be sure to visit the new and improved Ninjalane at Hardwareasylum.com
Abit IS7 (Springdale) Motherboard Review
Abit IS7 (Springdale) Motherboard Review
Author:

Dennis Garcia
Published:
Monday, May 26, 2003

Introduction
It has been a good couple of years since an Abit motherboard has graced the pages of Ninjalane.com and some may ask why. Well when Ninjalane started doing hardware reviews it was decided that we would feature the high quality and hard to get computer hardware, though every once in awhile a popular product will come along with an interesting story behind it. For instance the story behind the
Abit VP6
was a rumored recall that delayed the VP6 by a week or so.
Well the story behind the IS7 is its strange appearance in retail channels weeks before the official launch of the i865 Springdale chipset. Of course there wasn't any mention of the board on the Abit website at the time and even the Abit forum posters were confused. Any event seeing how I missed my publishing mark to have this review out before the Springdale launch, you will just have to believe me.
Before we get started here is some info on the i865PE (Springdale) chipset

800/533/400 MHz System Bus
Intel Hyper-Threading Technology Support
478-pin Processor Package Compatibility
Intel Hub Architecture
Dual-Channel DDR 400/333/266 SDRAM
AGP8X Interface
Integrated Hi-Speed USB 2.0
Dual Independent Serial ATA Controllers
Intel RAID Technology
Ultra ATA/100
AC'97 Audio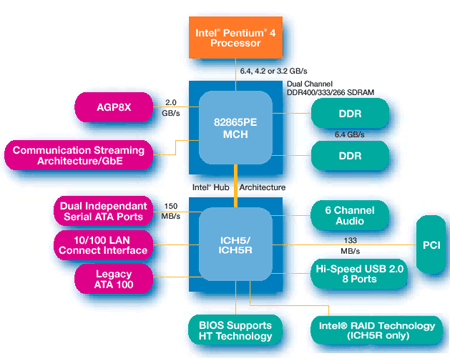 The two major highlights of this chipset include a 800Mhz FSB and Dual Channel DDR 400. This of course isn't Intel's first stab at Dual Channel DDR, the Granite Bay chipset was released not to long ago. Much like the first GeForceFX Granite Bay came to market late, didn't perform to everyone's expectation, was costly, and is quickly being replaced. The key players in this replacement include the Springdale (i865PE) and the Canterwood (i875P) chipsets.