After careful consideration I have decided to transfer all hardware review activities to a new domain. I purchased Hardwareasylum.com in 2012 and have been working hard to build a new and improved Ninjalane on that domain. If you are reading this you have reached one of the archived articles, news, projects and/or reviews that were left behind during the site migration.
Please update your bookmarks and be sure to visit the new and improved Ninjalane at Hardwareasylum.com
DFI LanParty Jr 790GX Motherboard Review
DFI LanParty Jr 790GX Motherboard Review
Author:

Dennis Garcia
Published:
Sunday, December 07, 2008

Additional Features
Hybrid CrossFire
The "G" in the name 790GX stands for graphics which basically boils down to an onboard graphics option. We don't normally find onboard graphics on enthusiast ready hardware but in this case I think it's a welcome addition. The AMD 790GX comes with a built in HD 3300 graphics processor that is fully DX 10 compliant and will also pair up with other similar HD graphics cards to make 2 slow cards a little bit faster. Ie Crossfire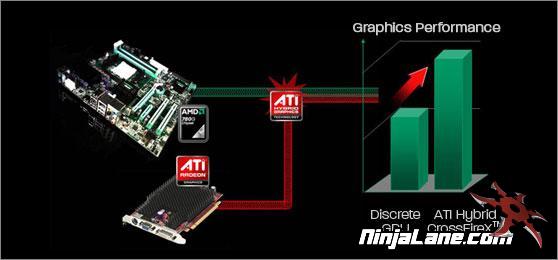 We normally don't use the onboard graphics option when we do motherboard reviews but in an effort to test hybrid crossfire we pulled out our HD 2400 Pro from a past review and dropped it in. The drivers quickly recognized the card and bound it to the onboard graphics processor without any input from us. Performance wasn't great but what was unbearable could now be tolerated.
Auto Boost System (ABS)
When CMOS Reloaded was first announced at
Computex 2003
there was some talk around how this new technology could be used and one of the concepts was the sharing of overclocking profiles. So say someone is having trouble breaking 3Ghz, the idea would be that expert overclocker Jon Doe could setup their system in a similar manner and then send over the profile as either proof of the overclock or so amateur overclocker could enjoy a free performance boost.
Well the concept has become a reality in the form of a Windows front end to CMOS Reloaded called the Auto Boost System (ABS). From here you can do many things with CMOS Reloaded including the loading and exporting of profiles. Testing of existing profiles Apply profiles when the system reboots etc… ABS is also easy to use and is really designed for the amateur overclocker that is looking for an easy way to get into overclocking and may not know that much about system turning.
Below are some screenshots from ABS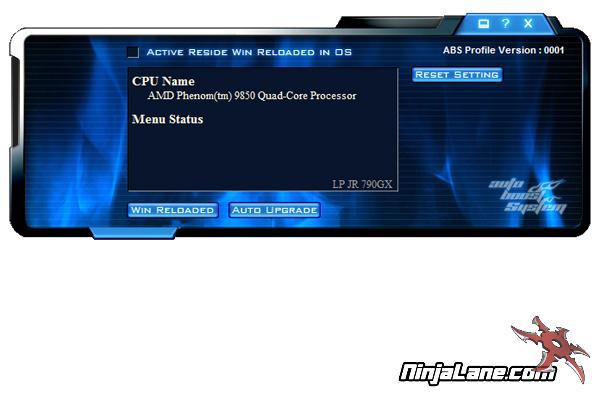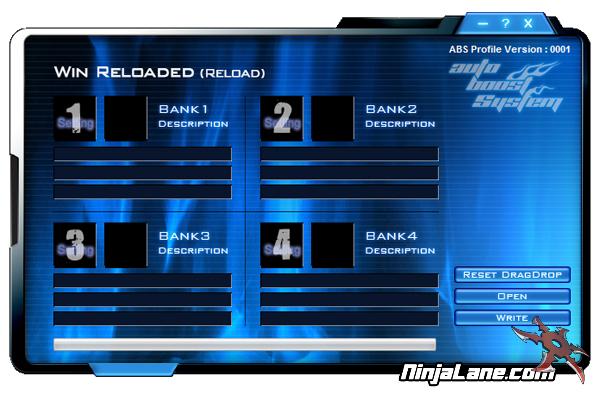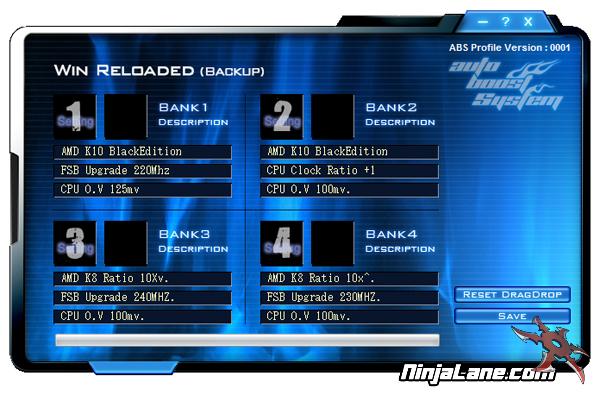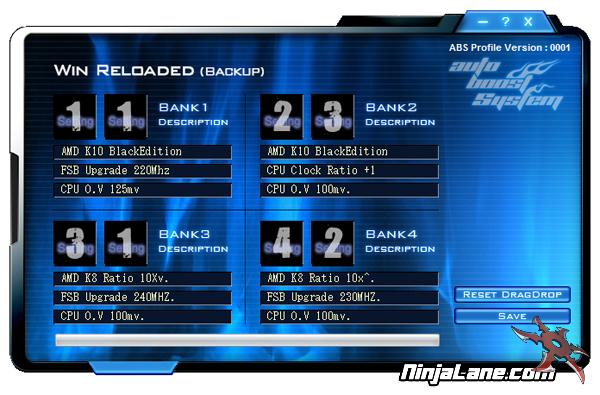 Win Reloaded (Backup) allows you to drag and drop the listed profiles to any one of the banks listed. Once you are happy with the profiles location press save and you're ready to start testing.