After careful consideration I have decided to transfer all hardware review activities to a new domain. I purchased Hardwareasylum.com in 2012 and have been working hard to build a new and improved Ninjalane on that domain. If you are reading this you have reached one of the archived articles, news, projects and/or reviews that were left behind during the site migration.
Please update your bookmarks and be sure to visit the new and improved Ninjalane at Hardwareasylum.com
DFI LanParty Jr 790GX Motherboard Review
DFI LanParty Jr 790GX Motherboard Review
Author:

Dennis Garcia
Published:
Sunday, December 07, 2008

Included Features
LanParty Jr boards do not come with a huge collection of accessories, below is what you can expect to receive.

Included in the box you get:
users manual, ABS installation guide, driver disks, ATX backplate, jumpers, and Smart Connectors.

Drive cables include:
1x rounded IDE, 2x SATA, floppy, and 1x SATA power cable

By comparison the DFI LanParty Jr 790GX really doesn't come with a ton of extra goodies but does have enough to get any system up and running.
Smart Connectors
The Smart Connectors are a new feature for LanParty boards and really borrows an installation feature from the ASUS line of products. I'm sure many of you can relate to this scenario. You've installed the motherboard, heatsink, memory and video card. Drives are ready to be hooked up but you need to finish connecting the case switches and USB ports to the motherboard. So you break out the installation manual looking for the front panel connector pin guide and then proceed to attach each of the wire leads. USB wires are the worst since they are usually individual leads that never seem to go on the correct pin.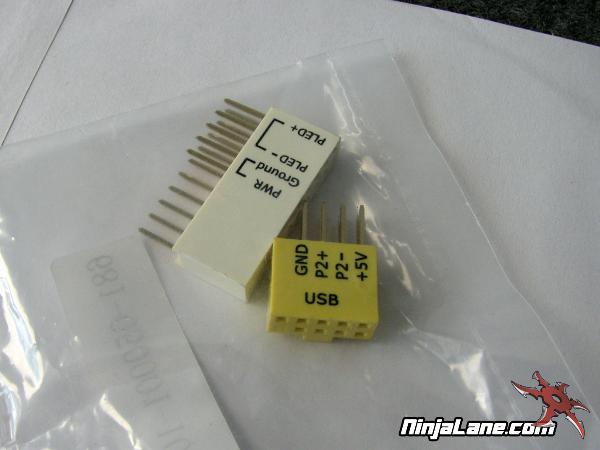 Well the Smart Connectors are here to make the process a little easier. Simply attach the leads to the connector outside of the case then install the entire block to the motherboard headers and move on to the next task. They are even labeled so you won't need to consult the manual directly.