After careful consideration I have decided to transfer all hardware review activities to a new domain. I purchased Hardwareasylum.com in 2012 and have been working hard to build a new and improved Ninjalane on that domain. If you are reading this you have reached one of the archived articles, news, projects and/or reviews that were left behind during the site migration.
Please update your bookmarks and be sure to visit the new and improved Ninjalane at Hardwareasylum.com
DFI LanPartyUT 915P-T12 Review
DFI LanPartyUT 915P-T12 Review
Author:

Dennis Garcia
Published:
Tuesday, October 05, 2004

Benchmarks - Overclocked
Overclocking
As you saw in the BIOS section of this review DFI has designed the LanPartyUT-915P-T12 with overclocking in mind and it does overclock quite well indeed. The highest stable overclock was 260Mhz FSB when using DDR2 memory. This translated into a 900Mhz overclock with very little adjustments to the Vcore. Something interesting is that when the board was pushed to 265Mhz FSB it actually started making noise! The situation was a little worrisome so the system was backed down to 260Mhz for benchmarking.
CPU-Z 260Mhz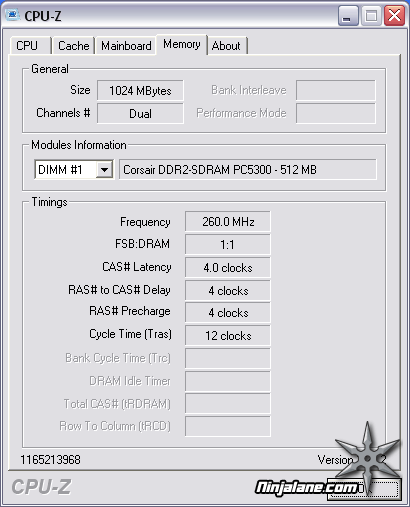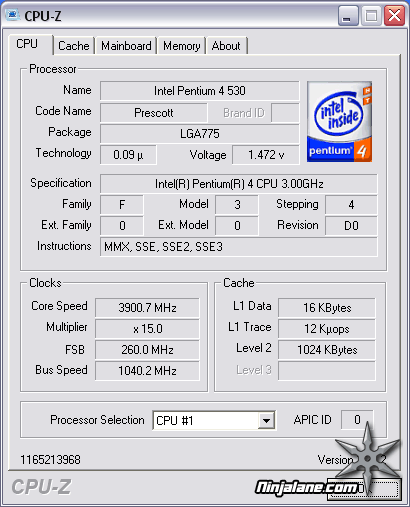 Like in previous reviews the overclocking section pits the overclocked system against the same system at default speeds. The scores are pretty straight forward and sporting some really good gains in processor speed. The benchmarks below are divided up into 3 parts. Default speed (DDR2), 240Mhz FSB (DDR2 memory set at DDR533), and 260Mhz FSB (DDR2 memory set at DDR400).
SiSoft Sandra Various Overcloc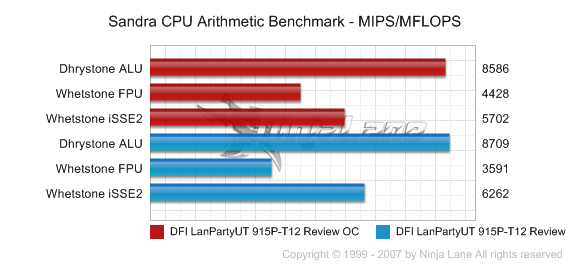 Cachemem

Except for a little CPU speed funkiness @ 260Mhz (3.9Ghz) the benchmarks show us what the 915P can do. Just wait until we start watercooling this beast.