After careful consideration I have decided to transfer all hardware review activities to a new domain. I purchased Hardwareasylum.com in 2012 and have been working hard to build a new and improved Ninjalane on that domain. If you are reading this you have reached one of the archived articles, news, projects and/or reviews that were left behind during the site migration.
Please update your bookmarks and be sure to visit the new and improved Ninjalane at Hardwareasylum.com
EVGA GeForce GTX560 Ti SuperClocked Video Card Review
Author:

Will West
Published:
Friday, February 04, 2011
Overclocking
Even after getting an EVGA GTX560 Ti SC that is overclocked to a whopping 900MHz core and 2100MHz memory. We have to take a jab at seeing how much more overclocking room the card has left in it. So here we are and pushing it once again.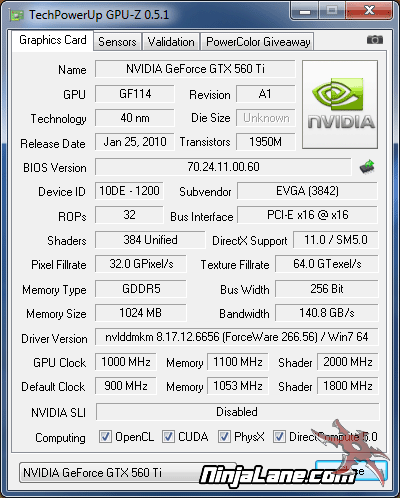 By using the EVGA Precision/OC Scanner software suite we were able to get an extra 100MHz on the core, and played some with the memory speed to increase the overall bandwidth as well. Now with all this extra speed we hope will translate it into some real world performance jumps so let's check it out and see.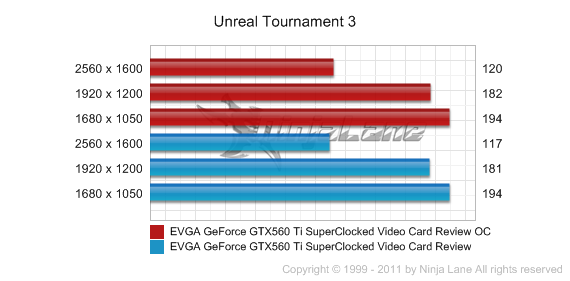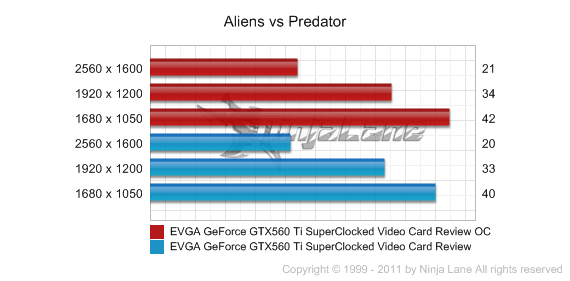 We appear to be CPU bound in our UT3 tests at the lowest resolution but start to see performance gains as we begin to push more pixels. On the other side with AVP the overclock was able to boost performance if not by a single frame on the average. Overall the overclock was a success and shows that the EVGA GTX560 Ti SC does have some headroom left for the overclocking crowd.