After careful consideration I have decided to transfer all hardware review activities to a new domain. I purchased Hardwareasylum.com in 2012 and have been working hard to build a new and improved Ninjalane on that domain. If you are reading this you have reached one of the archived articles, news, projects and/or reviews that were left behind during the site migration.
Please update your bookmarks and be sure to visit the new and improved Ninjalane at Hardwareasylum.com
EVGA GeForce GTX560 Ti SuperClocked Video Card Review
Author:

Will West
Published:
Friday, February 04, 2011
Introduction
In this review we will be looking at the EVGA GTX 560 Ti SC video card. As indicated by the SC tag this card comes factory overclocked and should provide a nice boost in overall performance. Factory overclocking has become very common and will often encompass a variety of PCB designs that range from the factory reference design to custom designs aimed at providing more power and more overclocking options. For this card EVGA choose to stick with the nVidia reference design to not only save money, but to also express just how well nVidia did on the reference design for this card.

The EVGA GTX560Ti SC is targeted at the average Joe consumer looking for extra performance without the hassle required to overclock themselves or simply wants something better off the shelf. Of course the hardware enthusiast question remains, does this mean we are also getting a better GPU? Or has EVGA pushed the GF114 core to the limit leaving overclockers to demand more??

Along with overclocked performance we also plan to explore SLI scaling and see just how well the new GTX560 Ti does against GTX470. You will have to read on to find out.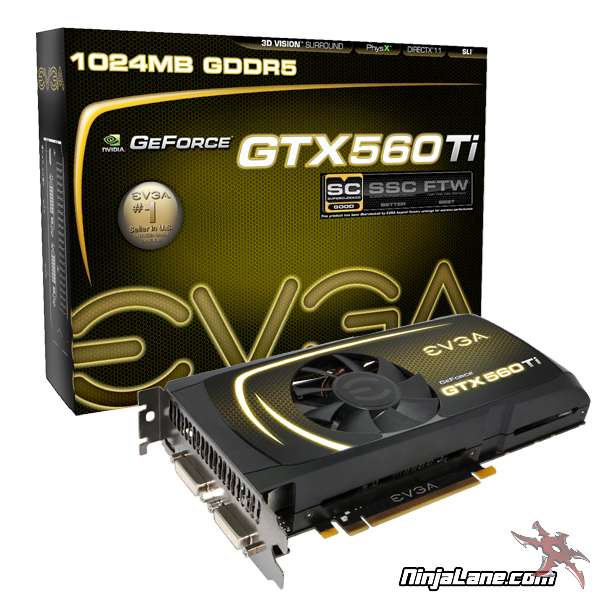 Specifications
Fabrication Process: 40nm
Core Clock: 900MHz
Shader Clock: 1800MHz
Stream Processors: 384 units
ROP Units: 32
Texture Filtering Units: 64
Memory Interface: 256-bit
Memory Amount/Type: 1GB/GDDR5 Memory
Memory Clock: 1053MHz (4212MHz effective)
Memory Bandwidth: 134.8 GB/s
DirectX Compliance: 11
Connection: 16x PCI Express 2.0
Form Factor: Dual Slot
Multi-GPU Support: SLI
Model: 01G-P3-1563-AR
Warranty: Lifetime Warranty