After careful consideration I have decided to transfer all hardware review activities to a new domain. I purchased Hardwareasylum.com in 2012 and have been working hard to build a new and improved Ninjalane on that domain. If you are reading this you have reached one of the archived articles, news, projects and/or reviews that were left behind during the site migration.
Please update your bookmarks and be sure to visit the new and improved Ninjalane at Hardwareasylum.com
EVGA GeForce GTX560 Ti SuperClocked Video Card Review
Author:

Will West
Published:
Friday, February 04, 2011
Aliens VS Predator
In space no one can hear you scream, but if you are a human in AVP that will be the only thing you will be doing. The game is based off of the movies and comic books series that has been done before, but this is the much bigger and better reboot of the game series. AVP is a full DX11 game with some serious Tessellation at work to test any modern GPU.
Setting used for testing is as follows.

Texture Quality: Very High
Shadow Quality: High
Anisotropic Filtering: 16x
SSAO: ON
Vertical Sync: OFF
DX11 Tessellation: ON
DX11 Advanced Shadows: ON
DX11 MSAA Samples: 4x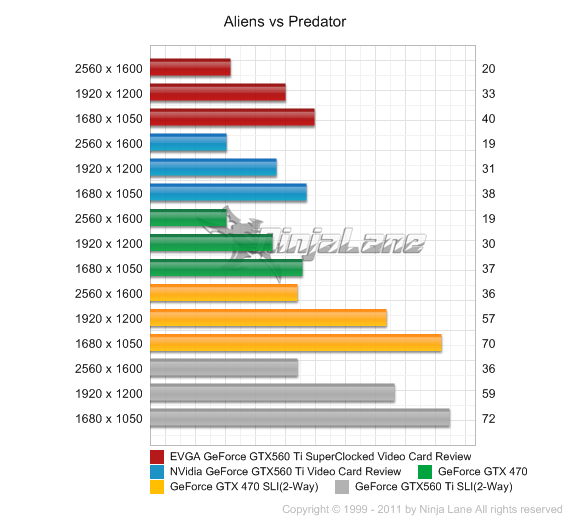 The EVGA GTX560 Ti SC is overclocked and ready to deliver a knockout punch to any DirectX 11 title, but even with higher clocks this card can't beat the mighty AVP game. Fighting for just an extra frame on the average is brutal, but the EVGA GTX560 Ti SC does do it.

In the SLI ranks both cards tied by offering up similar performance across the board.