After careful consideration I have decided to transfer all hardware review activities to a new domain. I purchased Hardwareasylum.com in 2012 and have been working hard to build a new and improved Ninjalane on that domain. If you are reading this you have reached one of the archived articles, news, projects and/or reviews that were left behind during the site migration.
Please update your bookmarks and be sure to visit the new and improved Ninjalane at Hardwareasylum.com
EVGA GeForce GTX560 Ti SuperClocked Video Card Review
Author:

Will West
Published:
Friday, February 04, 2011
EVGA Software
EVGA Precision
To make a great video card, and not compliment it with software to push it to its highest potential is just shameful. Luckily EVGA has gone the extra step and released a new version of the EVGA Precision software. This program will allow you to push the already overclocked GTX560 Ti SC to even higher clocks, monitor temperature, and adjust fan speeds.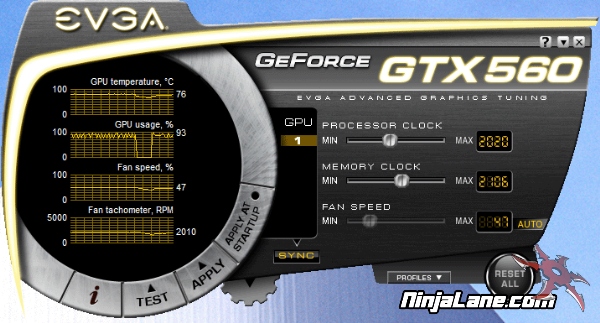 OC Scanner
An important step when overclocking is to test your clockspeed adjustments to ensure they are stable and artifact free. The EVGA OC Scanner can do that for you and report back if it finds anything wrong with the card or the new clocks you are testing.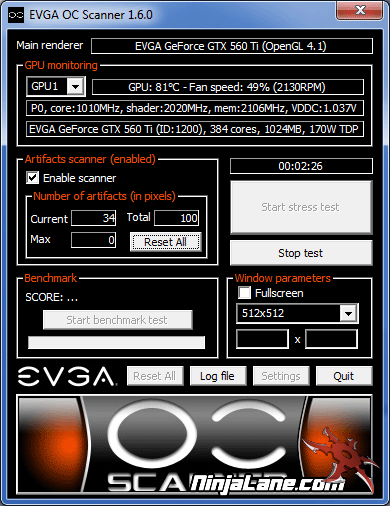 Artifact Scanner
The Artifact Scanner looks for any kind of hiccup or glitch that most human eyes may not notice while overclocking the card. That allows the user to zero in the perfect overclock with confidence in the cards stability. No more thinking your overclock is stabile just to get the wonderful BSOD surprise while gaming.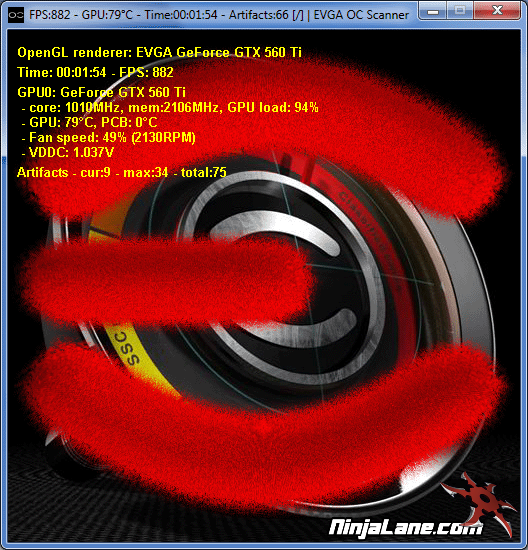 EVGA has not only created a great piece of hardware to enjoy, but also a software suite to give any gamer or enthusiast the proper tools to get even more out of the hardware.