After careful consideration I have decided to transfer all hardware review activities to a new domain. I purchased Hardwareasylum.com in 2012 and have been working hard to build a new and improved Ninjalane on that domain. If you are reading this you have reached one of the archived articles, news, projects and/or reviews that were left behind during the site migration.
Please update your bookmarks and be sure to visit the new and improved Ninjalane at Hardwareasylum.com
Gigabyte Radeon HD5670 Video Card Review
Author:

Will West
Published:
Tuesday, February 09, 2010

Introduction
The new dawn of Windows 7 and the now famous rebirth of PC gaming is here. With the new DirectX 11 API set to create new standards for the GPU and your gaming experience it is time for new video cards to take advantage of it. In this review we are looking at the new Gigabyte Radeon HD 5670 graphics card that will clearly keep your money where it belongs, in your pocket. So, will this card have enough power to satisfy the gamer on a budget? Does this card scale to the extremes of gaming resolutions? Let's put the pedal to the metal and find out.

We will also be looking at the Radeon 5670 CrossFire advantage for those of you that want to buy one card now, and then pick up another one later.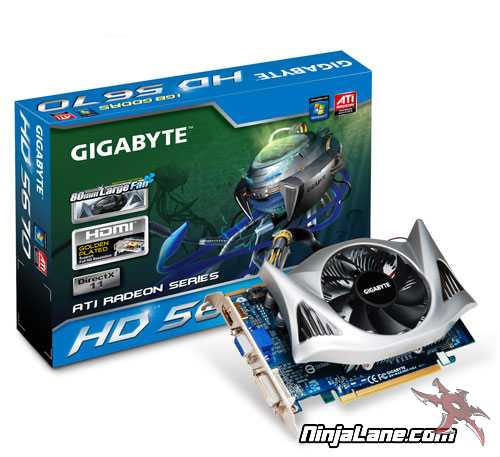 Card Features and Specifications
Fabrication Process: 40nm
Core Clock: 785MHz
Shader Clock: 785MHz
Stream Processors: 400 units
ROP Units: 32
Texture Filtering Units: 20
Memory Interface: 128-bit
Memory Amount/Type: 1GB/GDDR5 Memory
Memory Clock: 1000MHz (4000MHz effective)
Memory Bandwidth: 64 GB/s
DirectX Compliance: 11
Connection: 16x PCI Express 2.1
Form Factor: Dual Slot
Multi-GPU Support: CrossFire X