After careful consideration I have decided to transfer all hardware review activities to a new domain. I purchased Hardwareasylum.com in 2012 and have been working hard to build a new and improved Ninjalane on that domain. If you are reading this you have reached one of the archived articles, news, projects and/or reviews that were left behind during the site migration.
Please update your bookmarks and be sure to visit the new and improved Ninjalane at Hardwareasylum.com
Gigabyte GeForce GTX 470 Super Overclocked Edition Video Card Review
Author:

Will West
Published:
Tuesday, September 07, 2010

Overclocking
The overclocking name of the game is to get more bangs from your buck. So this includes pre-overclocked graphic cards as well. The situation is how much more performance can you get out of this Gigabyte GTX 470 SOC. Well the numbers are not too bad, but we have seen more from reference GTX 470 versions.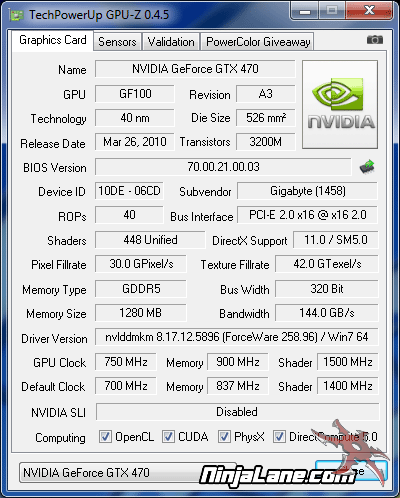 The one amazing thing about the Gigabyte GTX 470 SOC is that it seems to have more in her. It is just a matter of getting the available tools to pull it out. When testing and overclocking this card we used a variety of tools but found that the card responded best when using the OC Guru Software and even that could have gone better.

We do hope that future versions of the OC Guru Software update the power usage balance and some of the overclocking controls since it will surely lead to better performance. In the end we found that the default Overclocked settings created faster benchmark scores than reference monster overclocks. So it would seem the OC Guru software is doing something to this card that is not entirely clear.

Let's see what this overclock gives us in a real gaming situation.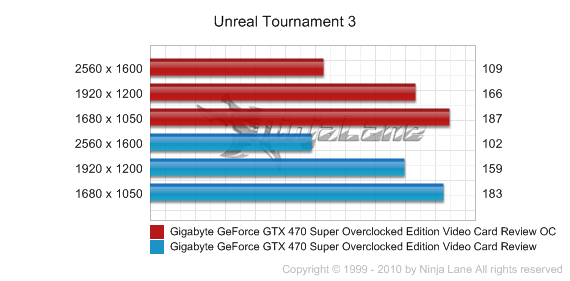 For UT3 the speed increase gives a small amount of FPS to the monster sized numbers at default. Every little bit counts though.
Once again we see a healthy amount of power added with the extra speed to L4D2, but only at the higher resolutions.