reviews
NVidia GeForce GTS 450 SLI Performance Review
Author: Will West

Published: Wednesday, October 27, 2010

Discuss in the Forums
Dirt 2
Dirt2 is a rally racing game that is huge among the world racing community. The game combines many racing scenarios including dirt and pavement tracks with great physics effects applied to each.

In terms of technology Dirt2 will run in either DirectX 9, or the new DirectX 11 technology depending on what your video card supports. The DirectX 11 edition adds a few new options to the game such as tessellation and Shader 5.0, among others.
Testing of Dirt 2 is with all settings turned to Ultra with 8x anti-aliasing and 16X anisotropic Filtering. Take note that all of the cards are running with DX11 at full settings.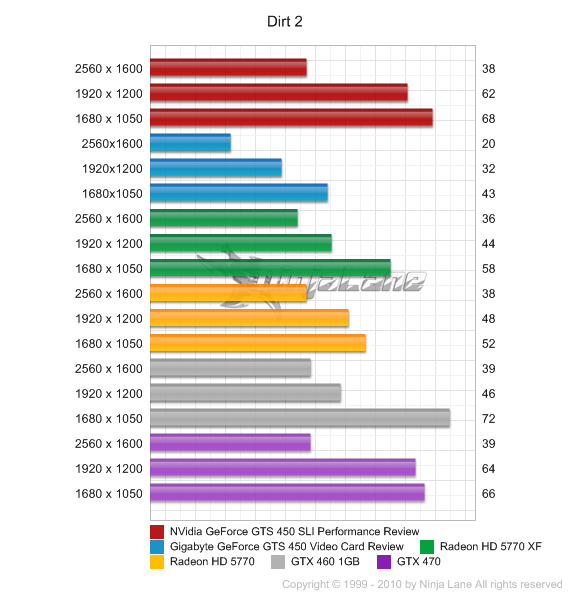 Dirt2 on a single GTS450 is somewhat of a lackluster at higher resolutions posting an unplayable 20fps. Installing a second card instantly doubled our performance making it playable at even the highest resolution. Once again the GTS 450 SLI setup matches GTX470 in framerate.

The Radeon HD 5770 XFire appeared to have driver issues and was never able to activate the second card.